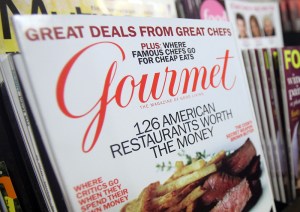 Much of the outrage over today's Conde Nast news has focused on the decision to kill Gourmet, a beloved magazine whose Conde competitor, Bon Appetit, had plenty of recipes but less history and prestige.
Corby Kummer of The Atlantic is in shock. The magical thinking has begun:
I refuse to believe that the magazine will be gone long. I'm an optimist. Conde Nast closed and then brought back House and Garden, another venerable title, and even if that folded again I choose to think that Gourmet, which like the recently closed Portfolio will apparently live on on the Web.
The British perspective, from the Guardian: "Working for Gourmet was like flying the Atlantic first class. It ruined you for other food magazines." (Even if "for the British reader the result could often be too much to stomach").
The death of Gourmet is depressing even to some people who don't really care about food. "What sad news," says Margaret Lyons on Entertainment Weekly's PopWatch. "Gourmet was one of the first grown-up magazines I got in to."
Gourmet's demise also seems to have tapped into some deep-set domestic nostalgia. Gabriella Gershenson on The Feed writes:
I can try to wear my journalist hat and write about how the magazine influenced the way we eat, where it stood in the spectrum of other food coverage, but it's not possible. Gourmet was something that I cherished, that I grew up with, that introduced me to food.
Of course, then there's the undercurrent of high-brow indignation. N.P.R.'s Monkey See blog explains the difference between Conde's two food titles:
Bon Appetit reports the goings-on at Fox's Hell's Kitchen, which is trashy even for a cooking-related reality show, while Gourmet featured a blistering review of Julie & Julia that takes as vitriolic an anti-Julie-Powell a position as I've seen anywhere.
But love is one thing; the bottom line is another. A business post on The Atlantic's site gives the numbers, then compares the two official Conde statements posted on Gawker in the last year. Today, the official work is that the company will "concentrate our publishing activities in the epicurean category on Bon Appétit." Back in March, Chuck Townsend called Gourmet and Bon Appetit "two completely different magazines," and "both circulation powerhouses."
"You may live to eat those words, Chuck," predicted Gawker at the time.