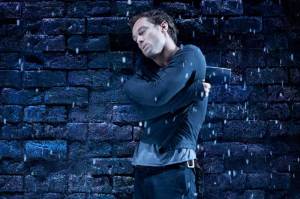 The prince of Denmark may be melancholy, but the star of Hamlet is having the time of his life.
Jude Law headlines the Donmar Warehouse production that played to raves in London this summer, had a quick layover in Elsinore, Denmark—really!—for six performances at Kronberg Castle, and arrived at the Broadhurst last night.
Mr. Law sulks, broods, charms, plots, brays, dances, wrestles, wheedles, fences and, at one point, pelvic-thrusts his way through a brisk three-hour-and-10-minute production. He's an energetic, kinetic, athletic Hamlet for an energetic, kinetic, amped-up Hamlet. Its energy—and our interest—flag only in its second half, when Hamlet is absent, sent off to England.
Beyond that, though, what is there to say? Hamlet is Hamlet, and either you're going to see it or you're not.
It's a stylish production: Director Michael Grandage, artistic director of the Donmar, sets the action in a relatively simple set of high stone walls with an enormous wooden door, a forbidding Elsinore. It's dark, shadowy and foggy, with stark white light streaming in from small slits of windows high on those walls.
(The sets and modern-creative-professional costumes of dark jeans, blazers and scarfs in a palette of blacks, browns and dark grays are by Christopher Oram. Neil Austin designed the lights.) This is also a funny production: Mr. Grandage and his cast milk Shakespeare's humor.
But for all of that, it is not a re-imagined production, a modernized production, an avante-garde production (the last Hamlet I saw was performed by Eastern European marionette puppeteers on an antique carousel in Dumbo), or one of those counterrevolutionary Elizabethan period-piece productions.
It is Hamlet, and Mr. Law is good in it, and that's that.
WHEN YOU SIT down to watch Carrie Fisher's staged memoir, called Wishful Drinking, it is not unreasonable to expect that you'll learn something new about the star's troubles with drink. But this exercise in self-hagiography, which opened at Studio 54 Sunday night and is as masturbatory as anything to have transpired in a Times Square theater, doesn't deliver on that implicit promise, or really with anything at all in the way of self-reflection. It is a collection of talk-show anecdotes.
They're anecdotes ably crafted and by snappy writer—not everyone has Academy Awards patter among their credits—who's full of charm and charisma and knows how to deliver a one-liner. She's deadpan, she's funny and she's forthright about needing the audience's affections. But her material consists of mere recollections, not reflections, with no depth, no real structure, and carrying the distinct impression of well-honed bits she's said plenty of times before.
Tony Taccone, the artistic director of the Berkeley Rep, one of the several theaters at which Wishful Drinking has been developed over the past three years, directs this play in two acts running more than two hours, which is 30 minutes and one intermission too long.
Of course, Ms. Fisher has lots of material. Her parents are Debbie Reynolds and Eddie Fisher; her father left her mother for Elizabeth Taylor, who'd been one of her mother's closest friends; she's an alcoholic; she's a manic-depressive; she's been married to and divorced from Paul Simon, who wrote songs about her, and the CAA superagent Bryan Lourd, who fathered her daughter, Billie, and then left her for a man; she's a best-selling author; a gay Republican political operative, Greg Stevens, died in her bed on the night before the 2005 Oscars; and—oh yeah—she was Princess Leia.
Wandering a stylized living room of a set in pajamas and a flowing robe and covered with glitter (the production design and excellent projections are by Alexander V. Nichols), Ms. Fisher seems afraid to leave any part of that history untouched, opting to hit on everything but not engage with anything.
What was it like to be a child of those revolving Hollywood marriages? Ms. Fisher offers no real insight but instead a initially funny but then interminable shtick on "Hollywood Inbreeding 101," which uses a flow chart and head shots to consider whether Billie and Elizabeth Taylor's grandson, Rhys, are in fact related. What was it like to discover your husband is gay? "I turn them bald, I make them gay, and my work is done," she says. Rimshot!
Midway through the first act, Ms. Fisher recalls playing the London Palladium in her mother's nightclub act when she was a 17. After getting good notices, she reports, she rebuffed a choreographer's offer to create a solo show for her, because if she'd done so she'd have turned into Liza Minnelli.
So much for that. Thirty-six years later, a devoted audience of largely gay men is watching an addict and noted survivor with a history of health problems and a homosexual ex-husband perform a camped-up greatest-hits montage on a Broadway stage. And just like Liza last year at the Palace—or Dr. Johnson's bipedal pooch—everyone seems very much impressed, not because it's done well, but because it is being done at all.
I'VE EATEN GLAZED doughnuts and devil's-food doughnuts, jelly-filled and Boston crèmes, doughnuts topped with coconut and frosting and sprinkles, both chocolate and rainbow, but I had never—until I visited the Music Box last week—experienced doughnuts topped with rendered chicken fat. Superior Donuts, the new drama that opened there Oct. 1 after a well-reviewed run at Chicago's Steppenwolf Theater last year, is a rare creation: These Donuts are coated with schmaltz.
That's a surprise, coming from Tracy Letts, the Chicago playwright who won the 2008 Pulitzer Prize, among many other accolades, for his previous Broadway effort, August: Osage County, a pitch-black comic portrait of a sprawling, scabrously feuding Oklahoma family, and earlier in his career wrote the lurid and vicious Killer Joe and Bug.
Superior Donuts, instead, is a fairly straightforward heartwarmer—a pleasant, entertaining, funny one—peopled by stock characters. Arthur Przybyszewski is an aging hippy stoner, played with withdrawn resignation by a very appealing Michael McKean, who runs a doughnut shop in the struggling Uptown neighborhood of Chicago. He's so beaten down by life—expects so little from it—that he can't even muster much interest when he arrives at work at the play's beginning to find the shop has been broken into and vandalized. There's a pair of friendly neighborhood cops who are regulars at the shop—the Irish-Catholic female half is sweet on Arthur, though he's too downtrodden to notice—and more concerned about the break-in than he is. The Russian immigrant who owns the video store next door is drunken and blustery and filled with "Vaht a country!" entrepreneurial plans (he represents change, of course), and the neighborhood drunk is good-humored and hard of hearing and gives whimsically wise counsel. And then there's Franco Wicks, the charming, fast-talking young black dreamer Arthur hires to help out at Superior Donuts.
It goes almost without saying that the on-the-make Franco—Jon Michael Hill, a three-year Steppenwolf vet who's making his Broadway debut, plays the role with infectious enthusiasm and a wide smile, bringing the same jolt of electricity to Superior Donuts he brings to Arthur's weary life—will bring Arthur out of his shell. It goes equally without saying that Franco will have a secret in his past, and an artistic ambition, and that Arthur will at first resist taking a fatherly role but then embrace it.
These are not faults, necessarily. As directed by Tina Landau, on the carefully realistic set of an weathered corner store (scenic design is by James Schuette), Superior Donuts is sweet, but it's not mawkish. It's predictable, but it's not boring. The only objectionable bits are the periodic moments when a spotlight catches Arthur and he tells the audience his life story of draft evasion, halfhearted marriage and absentee fatherhood—expository soliloquies that feel like theatrical equivalents of lazy movie voice-overs, stopping the story and disrupting the play's naturalism and momentum.
Oh, and it's not as funny as August. But, then, little is.
editorial@observer.com