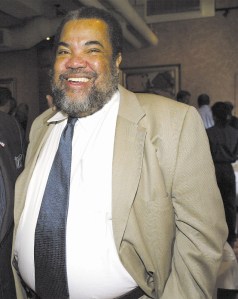 The owners of Lenox Terrace, a large central Harlem apartment complex with deep political roots, are planning a major new expansion on their property, a proposal that seems likely to set off a fight with the existing tenants.
But unlike most every other development battle in the city—which inevitably become political fights—the complex is literally the center of Harlem politics, as its tenants include Governor Paterson; Congressman Charles Rangel; Mr. Paterson's father, Basil Paterson; and Percy Sutton, the former Manhattan borough president.
In recent weeks, the owners of the 1950s-era, 1,700-apartment property—the family-controlled Olnick Organization—accompanied by their lobbyists from the firm of Bill Lynch Associates, have been showing plans to tenants and elected officials that call for a set of new apartment towers that would rise in place of one-story retail on the edges of the complex, a tower-in-the-park development that currently has six brick high-rise apartments. Those briefed were told the development would have retail in the base and more than 1,200 apartments above.
These early plans—which would require City Council approval—have already provoked a sharp negative reaction from tenants and community members, who say the development is far too large and unnecessary. The tenants have petitioned their local elected officials to act on their behalf, with some success, portending a likely battle-to-be should the Olnicks proceed with their proposals in its current state.
"It's insane. The proposition is just unbelievable," said Delsenia Glover, president of the Lenox Terrace Association of Concerned Tenants, highlighting concerns about density, shadows, traffic and pollution. "It will absolutely destroy the quality of life, not only in Lenox Terrace, but in the neighborhood."