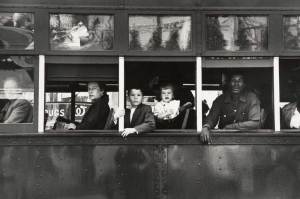 "Looking In: Robert Frank's 'The Americans'" at the Metropolitan Museum is one of the best shows of photography in years. It is not a complete retrospective. It concentrates on the years 1955 though '57, when the Swiss-born photographer drove cross-country on a Guggenheim grant on a three-legged, 10,000-mile trip that took him from New York City to Detroit, out west to Los Angeles, then down to New Orleans and other destinations in the deepest South, and yielded some 27,000 images.
Mr. Frank found his subject in the national demotic: bikers; Hollywood starlets; Park Avenue worthies; Oral Roberts; New York City drag queens; newlyweds in Reno; small-town cretins; rodeo dudes adrift in the Big City.
Then there were the recognizably iconic places, like a Motown assembly line, but also byways of poverty, backsliding and despair.
Mr. Frank spent the better part of the next year editing a thousand or so rough prints down to 83. Then a book: The Americans, first published in France in 1958. Fifty years and more than seven editions later, it remains one of the great achievements of postwar art.
This show—which previously stopped at the National Gallery of Art and the San Francisco Museum of Modern Art, and was organized by Sarah Greenough, senior curator of photographs at the National Gallery, and the Met's Jeff L. Rosenheim—runs until Jan. 3. Their thesis, to be somewhat reductive about it, is that Mr. Frank chronicled a ballooning consumer culture riven by social, political and economic inequality—and "helped the nation see itself more clearly."
This feels right in the general and wrong in the specific. After walking through the exhibition—which gathers together The Americans' photos with Frank's lesser-known prior work in Europe, and archival material such as contact sheets and letters—you may feel you have a less sure grasp of the photographs than when you started.
But this, too, may be a reductive assessment. Even today, The Americans registers an unfathomable strangeness. I have long since given up trying to get the "message" of Parade–Hoboken, New Jersey (1955), the first photograph in the book and one of Mr. Frank's best-known images—if it has a message. The photo depicts, in part, a lady staring out from a window, her face cut off from view by a breezing Stars and Stripes. This is not at all like the big picture spreads in Life, with their easily scanned, socially conscious reportage.
Born in 1924 to German-Jewish parents, Mr. Frank moved to New York City at the age of 24. What he saw of his adopted country, he saw with the eyes of an outsider. Early critics despised The Americans for this same reason: its harsh cast and coarse grain. Other photographers—Americans—had found their subject in the dispossessed, including Walker Evans, whose American Photographs, published in 1938, chronicled Dust Bowl–era down-and-outs. But Evans ennobled—in feeling and in technique. Mr. Frank did not. As the curators note, many of Mr. Frank's photographs are out of focus, blurred or teetering, as though the photographer hadn't looked through the viewfinder at the raw stuff in front of him. The lens becomes a metaphor for Mr. Frank's critical distance.
This new freedom, formal and thematic, to photograph what catches one's eye, or, more likely, gets under one's skin in a bad way, constitutes Mr. Frank's enormous influence on the generation of American photographers that followed: Garry Winogrand, Lee Friedlander, Diane Arbus. In terms of range and ambition, Mr. Frank was photography's Jason of the interstate highway, as good in his medium as Robert Rauschenberg was in collage. And there is more than a little in common between the train of narrative associations let loose by The Americans and Rauschenberg's Combine series of the mid-to-late 1950s.
"Looking In" makes an expert's case for Mr. Frank's careful curation of the book's picaresque momentum. Often the pairings create dislocation; say, a picture of an African-American preacher kneeling with a cross on the banks of the Mississippi (Mississippi River, Baton Rouge, Louisiana [1955]) turning onto a statue of St. Francis blessing the Los Angeles strip (St. Francis, gas station, and City Hall–Los Angeles [1956]).
In one of the fortuitous meetings that give the history of art such a nice shape, Mr. Frank asked Jack Kerouac to write the introduction to the book's American edition. He and Kerouac had not met until after Mr. Frank's trip, but they moved in the same circles, and Mr. Frank was friends with Allen Ginsberg. The introduction is one of the finest tributes ever from a writer to an artist, a hosanna of two fellow travelers' affinity for one another. The closing lines of Kerouac's second draft:
"Robert Frank, a Swiss, unobtrusive, nice, he roamed America and sucked a poem clean out of it, right on film, and here it is. To Robert Frank I now give this message: You got eyes." He sure did.