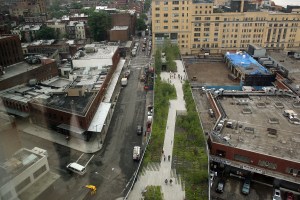 The full, 1.5-mile vision for the High Line Park inched one step closer to completion today, with the first concrete indication that the city will acquire the northern third of the elevated rail line.
At a City Planning Commission meeting this afternoon, chair Amanda Burden said the commission is preparing the paperwork for the city to purchase the stretch–between 30th and 34th Streets and the spur over Tenth Avenue–all of which is currently owned by the rail company CSX.
"We're thrilled," said Peter Mullan, the Vice President for Planning and Design for Friends of the High Line. "It's really the linchpin for saving the High Line at the railyards. It doesn't guarantee preservation but it's the first step towards that," he said.
The acquisition would mean that any changes to the property would be decided through a public process–and what with the public adoration for the viaduct-turned-park, it would seem to be a considerable safeguard. Friends of the High Line had been pressuring the city to take control of the stretch for months, fearing that it might fall outside the public purview as the developer, Related Companies, finalized plans for the site.
But Related has insisted all along that the High Line is in its plans, and Mr. Mullan praised their commitment after today's announcement. "Putting it in their plans gave a strong signal to the city that there was no reason not to move forward," Mr. Mullan said.
The second stretch of the High Line is currently under construction, and is expected to open before the end of 2010.