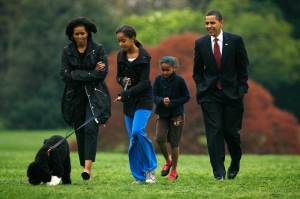 Is a Ph.D. required to land a cooking gig at the White House? Is it compulsory to have kissed—at age 7—Fidel Castro (even though his beard smelled of sour milk)? Maricel Presilla, guest chef for a "Fiesta Latina" reception hosted by the Obamas last week, has these recommendations and more. A small blond woman of forthright manner and dimensions, Ms. Presilla, co-owner of the Zafra and Cucharama restaurants in Hoboken, is a Cuban-born historian with an encyclopedic knowledge of Latin America's foods; the author of a doctoral dissertation titled "The Image of Death in the Cantigas de Santa Maria of Alfonso X"; and an expert on royal protocol. You haven't heard of her? Well, let's be honest: Were you familiar with Herta Müller's work before she took the Nobel Prize for Literature?
A few weeks ago, Ms. Presilla was visiting the Sun Temple, in Cuzco, when her communion with ancient Inca cosmology was interrupted by the bleat of her cell phone. Down the line came the voice of a White House aide, inviting her to Washington. She flew home at once and within a day had submitted the menu, an extravagantly annotated document that stopped just short of footnotes. For the Casa Obama event, she aspired to create a narrative, through finger food, of the entire history of Latin America, all the way back to the Maya.
"I don't cook just for the sake of cooking," she told the Transom. "There are messages I want to convey." While it's safe to assume these resonances went mostly undetected by 400 guests awaiting the concert by Gloria Estefan, Jose Feliciano, Los Lobos and others, a scholar in the crowd might have perceived the arc of a continent's history in the roast pork canapés, the miniature empanadas with chimichurri and the Puerto Rican pasteles in honor of Supreme Court Justice Sonia Sotomayor.
According to Ms. Presilla, White House staff "pamper" you, and you get to raid the first lady's garden.
But how was she picked?
"It was very important to us to pick someone who was knowledgeable and fluent in Latin cuisine. Pan-Latin cuisine," wrote White House Deputy Social Secretary Joe Reinstein in an email.
"I have a feeling that Michelle Obama and the very nice women in her social office—they're adorable, by the way—were behind it," ventured Ms. Presilla, whose magnum opus on Latin American cooking is due out from Norton next year. "I imagine they drew up a list, did their homework and decided I was the one."