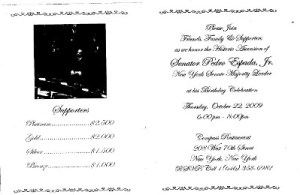 ALBANY—For just $1,000, you too can wish Pedro Espada Jr. a happy birthday and "honor" his "Historic Ascension" to be the majority leader of the State Senate.
Espada has sent invitations for a bash on October 22 at Compass on the Upper West Side.
Espada has appeared at a fund-raiser recently alongside Senate Republican Leader Dean Skelos for State Senator George Maziarz, two Republicans he helped in an abortive coup this summer.  A recent fundraiser for other, more seemingly-leaderly leaders of the Democratic conference excluded him.
The invitation (sorry it's dark…this copy was faxed) also features a picture of Espada giving a thumbs up. The biographical profile begins: "In 2009, Senator Pedro Espada, Jr. made history by becoming the first Hispanic Majority Leader of the New York State Senate. This significant position not only made him the highest ranking Hispanic elected official in the State of New York, but has also enhanced his abilities to improve the quality of life for the underserved residents of the 33rd District in the Bronx and New York State."
It will be interesting to see how much Espada raises at the event, or if we'll be able to tell. He has a troubled history with elections officials.