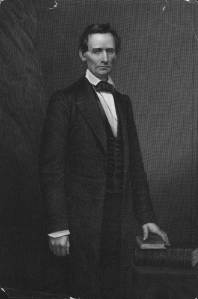 Lincoln and New York," the ambitious and generally excellent exhibition now running at the New-York Historical Society through March 25, is one to make an American proud. New Yorkers, on the other hand, may walk away despairing on the side of the hometown team. Organized by Lincoln scholar Harold Holzer and a team of curators, the exhibition packs six galleries of info: Photographs, posters, Lincoln kitsch, political cartoons, newsprint, touch screens, journals, letters and just about every kind of historical fragment and curio, like a reproduction of the Brooks Brothers jacket Lincoln wore to Ford's Theater, all are presented with a well-tended and imaginative profusion.
The exhibition and an accompanying catalog edited by Mr. Holzer don't tell us anything radically new about Lincoln. Its picture of Lincoln is our picture of Lincoln—morally upright, politically shrewd, anguished over the war's toll. The 16th president is never that far away, either from history museums or even the public's thoughts. Lincoln is one of two communal touchstones binding our turbulent democratic society together. The other being TV, God bless it.
This year, Lincoln's bicentennial, has shined an especially pious light on the Lincoln legend. Headed into the late months, you could be forgiven for a bit of Lincoln fatigue.
And perhaps this exhibition needs a little forgiveness for the awkward historical conjunction that provides its premise: Lincoln visited New York only five times during his life, and only once during his presidency. (Events kept him elsewhere.) But this is the New-York Historical Society, after all, and perhaps one of the great reasons to see this exhibit is the unstinting portrait of New York's wickedness in the 1860s.
Even then the promise of New York was that here rustic talent grew best, and nowhere else.
When Lincoln arrived in New York in Feb. 27, 1860, to deliver an hour-and-a-half-long speech on the issue of the Constitution and slavery to a sellout crowd of 1,500 at Cooper Union, he was the favorite son of western Republicans (back when the West meant Illinois and Indiana). But he hadn't won an election in more than a decade and his record in office consisted of a single, mostly undistinguished term in Congress.
Two months after the Cooper Union Speech, which ends in a double-barrel blast of "Let us have faith that right makes might," Lincoln had won the Republican nomination for president. An overnight success, to borrow some showbiz jargon.
We made Lincoln look like a winner the way the folks back home in Springfield never could. One of the fascinating subplots of "Lincoln and New York" is that New Yorkers were wise in the ways of media and the power of pictures way before it was wise about anything else.
The morning of his Cooper Union speech, Lincoln stopped by photographer Mathew Brady's studio for a photo portrait. Brady asked Lincoln to yank up his collar, so as to appear less scrawny for a potential national audience that had no idea what he looked like.
The image of a suited and stately Lincoln polished the prairie rail-splitter's image. (The photo is included in the show, along with the actual lectern used in the shoot.) Lincoln reportedly said, "Brady and the Cooper Union speech made me president."
You may be gratified to think that in the crucial hour of our nation's history, this sometimes unimaginably superficial city "made" one of our most astounding statesmen.
New York was in fact a bastion of pro-slavery opinion, trailing upstate New York in progressive politics. "Lincoln and New York" includes a gallery detailing the screaming headlines, partisan rags and editorial kingmakers of the era's press: some 174 daily and weekly newspapers in 1860. Lincoln's famous letter to the editor addressed to Horace Greeley, the Quixote behind the pro-Union New York Tribune, is included. That, and the editorials, satire and political cartoons that ran in anti-Lincoln, pro-slavery papers like The World and The New-York Daily News.
They still carry a shock—of what? Recognition, maybe, of the directions democratic discourse often takes.
Hard as it is to imagine of our present-day city, which prides itself on its (mostly) liberal political convictions, but Cooper Union speech aside, Lincoln was deeply unpopular in New York. He lost the city in 1860 by about 25,000 votes. He also lost Brooklyn and Westchester. In 1864, facing a collation of antiwar Democrats, called Copperheads, and an Irish immigrant bloc enraged at the possibility of competing against African-Americans for jobs, he lost again. "Lincoln and New York" takes us out of the cosmopolitanism of the Bloomberg II era and reminds us of a time that was probably far worse than the cauldron of Tammany sachem and the Five Points slum combined.
Along the way, the exhibition hits a couple of blind spots of local historical knowledge. Like Fernando Wood. Don't recognize the name? In an era of scandals big and small, but mostly big, Wood is my candidate for chief scoundrel: the mayor who, at the start of the Civil War, proposed the city ditch the Union and declare itself open to Southern trade. Read it; believe it.
The picture becomes clearer, and more complicated, with every step.New York State sent more men and suffered more casualties as a state than any other in the Union. And here the Draft Riots of July 1863 left more than 140 dead, mostly African-Americans, in the worst racial violence in American history.
With his assassination, Lincoln became an overnight sensation in New York.
On April 17, three days after the assassination, more than 150,000 people turned out on Broadway to pass Lincoln lying in state at City Hall. Profound mourning did not get in the way of the hustle: Lincoln pictures, Lincoln plates, Lincoln ribbons, Lincoln lockets, every piece of penny crapola big enough to fit the martyred president's image.
Is it worth reflecting on at a time when, after nearly a decade-long turn as America's City, New York, or at least Wall Street, is again nationally reviled? Some semi-corrupt strand wound deep in our cultural DNA? Beats me.
Either way, this exhibition reminds one of New York's greatest traits: The city will not be shamed.