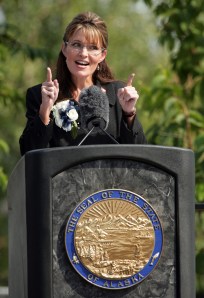 On Facebook yesterday, Sarah Palin went rogue on New York's Republican Party and endorsed Conservative candidate James Hoffman in New York's 23rd Congressional District.
The upstate district has become a bizarro race: The Democratic candidate, Bill Owens, doesn't quite support the president's health care plan, and the Republican candidate, Dede Scozzafava, is a pro-choice assemblywoman who twice voted in favor of legalizing gay marriage.
So the Conservative Party is billing Mr. Hoffman as a true conservative Republican, which is apparently what earned him Governor Palin's support. "When Republicans were in the wilderness in the late 1970s, Ronald Reagan knew that the doctrine of 'blurring the lines' between parties was not an appropriate way to win elections. Unfortunately, the Republican Party today has decided to choose a candidate who more than blurs the lines, and there is no real difference between the Democrat and the Republican in this race," she writes in the "Notes" section of her Facebook page. (Ms. Palin's Facebook account does not yet have a tab for Endorsements, though it does have one for Donate to SarahPAC.)
A spokesman for Mr. Hoffman tells Jimmy Vielkind that the campaign has raised $116,000 in the roughly 24 hours since her endorsement.
Naturally, Mr. Owens has already sent out his own fund-raising appeal based on Governor Palin's endorsement of his rival, but there's no word yet on how much money her endorsement has garnered from Democrats.