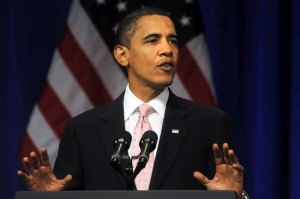 It's become something of a tradition in modern American politics: Every four years around this time, the press declares the new (or newly re-elected) president humbled by the off-year election results.
Sometimes, the verdict is spot on. We knew, for instance, that the bottom had fallen out for George W. Bush when he paid an election eve visit to (then) red-state Virginia in 2005-only to see the candidate he campaigned with, Jerry Kilgore, soundly defeated in the next day's gubernatorial election.
And sometimes it's not: George W. Bush, then basking in near-unanimous public approval, watched his party lose the governorships in both Virginia and New Jersey just two months after 9/11 (although the White House could brag that sort-of-Republican Michael Bloomberg won New York's mayoralty on the same day).
The reality is that New Jersey and (particularly) Virginia, the two states that elect governors in the off-year, have developed a habit over the last four decades of rejecting the candidate from the White House's party, no matter the president's standing in the polls.
But this doesn't stop the media from declaring it a serious blow for the president when he strikes out in The First Major Electoral Test Of His Presidency.
With this year's off-year election is now a week away, Barack Obama is, obviously, scrambling to mute this storyline as much as possible. The perception of a backlash against him and his policies would threaten his immediate agenda-which is now headlined by a health care reform effort that is now reaching a critical phase.
This explains why he's thrown himself with gusto into New Jersey's gubernatorial contest, where his party's candidate has unexpectedly rallied and may actually win. And why the White House has quietly (but insistently) sought to distance itself from Creigh Deeds, the doomed Democratic gubernatorial candidate in Virginia, and refused to offer anything but the most grudging, half-hearted support for the equally doomed Bill Thompson here in New York.
But if the Democrats do lose all of these races (and New Jersey is the only one where they have a shot at winning), this effort will be for naught. Republicans will howl that a repeat of Bill Clinton's disastrous first two years-when an off-year wipeout in 1993 portended the G.O.P. revolution of 1994-is at hand, a parallel that the press will be only too happy to entertain.
This is where the Obama White House may have a secret weapon: the special House election in the upstate 23rd District, where voters will choose Republican John McHugh's successor next Tuesday.
The contest, in a district that last sent a Democrat to Washington in the middle of the 19th Century, has-in truly bizarre fashion-emerged as the Democrats' best shot at victory this fall.
Democrats have pegged their hopes on Bill Owens, a local businessman who was recruited into the race (and the party) with the hope that his money and conservative instincts would produce an unlikely pick-up. He's proven a serviceable candidate, but the real reason he now leads in the polls has nothing to do with him and everything to do with a nasty G.O.P. civil war.
Dede Scozzafava, a moderate assemblywoman selected by the district's Republican county party chairmen (in lieu of a primary) as their nominee, has watched her base erode in the face of a third-party candidacy from Doug Hoffman, an accountant who was spurned for the G.O.P. nod by those same county chairs.
Mr. Hoffman has attracted endorsements from some big-name national conservative leaders-most notably Sarah Palin-and is now polling in the high teens, raising big money fast, and threatening to supplant Ms. Scozzafava in second place.
In a way, it's hard to fault conservatives for this somewhat extraordinary insurrection. The selection of Ms. Scozzafava, a gay marriage and card check supporter who has previously run on the Working Families line and whose husband is a top labor leader, is a stick in their eye-and since they were denied a chance to beat her in a primary, their only choices were to field a third party candidate or to swallow hard.
But they'll probably succeed only in fatally splintering what would normally be a winning Republican coalition in the 23rd, thus ensuring an Owens victory next week-an outcome that would allow the White House to dismiss (credibly) any Republican crowing about Democratic defeats in Virginia, New Jersey and New York City.
There's no way of knowing whether that's what Mr. Obama had in mind this summer when he chose Mr. McHugh as his Army secretary, a move that triggered the special election. But if Mr. Owens does make it to Congress, you can bet he'll be a White House favorite.