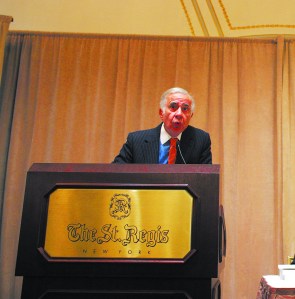 One can assume that it would be exceedingly upsetting to be close with Carl Icahn, the 43rd wealthiest man in the world. Fellow billionaire Wilbur Ross once said that the activist investor is "especially good at terrorizing people." And Mr. Ross is a friend.
The flip side is that you live very luxuriantly. According to city records, his son Brett just bought a $2.9 million penthouse duplex at the Piano Factory, a co-op on West 46th Street. The 30-year-old Princeton graduate works for his father, and reportedly plays chess with him (for money) on weekends; after the son started winning, the father hired a grandmaster to coach him back to victory.
The apartment has a 42-foot-long terrace off the master bedroom and living room, and a massive rooftop space upstairs. According to a Halstead listing, it was used as a set in 9½ Weeks, that landmark of mildly erotic mid-'80s cinema.
But young Mr. Icahn's apartment is not as pricey as his father's chief legal adviser's new place. According to a deed, Marc Weitzen spent $4,225,000 last month on a two-unit condo at the Brompton, Robert A. M. Stern's new Upper East Side condo. "There's nothing to talk about," said Mr. Weitzen.
As it happens, that place is smaller than the $8.45 million apartment that the attorney Daniel Fischel just bought at One Beacon Court. Mr. Fischel, famous for helping gentlemen like Ken Lay, Charles Keating and Michael Milken, now has custom electric shades, a steam shower and a Sub-Zero wine refrigerator.
mabelson@observer.com