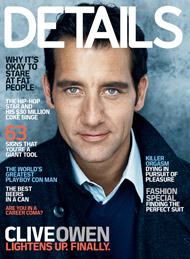 More changes at Conde Nast: We're hearing that Steven DeLuca, the publisher of Details, will be fired today.
Bill Wackermann, the publisher of Glamour, will now be responsible for Details, while Lucy Kriz will retain her title as associate publisher. Mr. Wackermann was formerly the publisher of Details.
This is only the latest change. Yesterday, Conde Nast replaced Brides publisher Alison Adler-Matz with Carolyn Kremins, most recently the publisher of Cookie.
Details has long been on a short-list of magazines that could potentially be eliminated, but was thrown a life line this year. It'll be up to Mr. Wackermann–who was named the publishing director of Domino only weeks before it was eliminated–to try to make it a viable business.