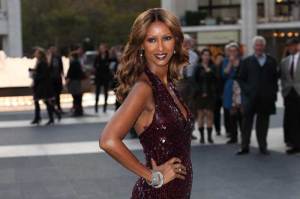 You don't need a weatherman to know which way the wind blows, but when it's as gusty as it was on Wednesday, Oct. 7, some kind of warning, or maybe a protective shield, might have helped. But the weather didn't stop the stars from coming out to the American Ballet Theatre's fall gala at Avery Fisher Hall, with their typical disregard for outerwear.
Gossip Girl's Joanna Garcia made her way down the line of photographers and reporters in a red Alberta Ferretti dress with a long train and a slit up the middle. No, she wasn't with Chace Crawford, or her real boyfriend, Yankee Nick Swisher—he was off trying to win the first game of the playoffs—but an old friend. An assistant occasionally threw Ms. Garcia's red train to the wind for a more dramatic snapshot.
"High maintenance," the starlet laughed. Luckily, the outfit held up. "I'm highly tucked in," she said.
Model Veronica Webb and actress Emmy Rossum arrived at the same time. Ms. Rossum, wearing a white Marchesa dress, skirted past the photographers and rushed inside.
"I love the ballet!" Ms. Webb said, looking elegant in a long blue Christian Siriano dress that poofed out at the bottom. "The Turning Point is one of my favorite movies."
This was the ABT company's first time performing at Avery Fisher Hall, and the evening featured the debut of three separate works, by choreographers Aszure Barton, Benjamin Millepied and Alexei Ratmansky, that will run until Oct. 10.
Outside, the wind howled.
"Can we go inside?" Iman, the model and wife of David Bowie, asked her publicist. She shivered in a dark purple Donna Karan dress that left her arms bare. The Transom took refuge with her in the lobby. Iman is no stranger to music, having done a few videos back in the '80s—"I'm the only one that did both of the Jacksons, Jermaine and Michael," she reflected—but the ballet is another thing entirely.
"I wish I was a dancer!" she said, and rushed to find her seat.
As the opening curtain bell began to clamor, the actress Natalie Portman arrived, posed briefly for a couple of pictures and then was whisked inside, past the corral of photographers. They let out a collective "Arggh!" followed by "Natalie, Natalie, wait, Natalie"—practically falling on top of each other to get a shot of the back of her pretty head.