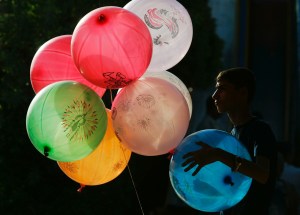 We spent the afternoon watching a balloon that did not have a six-year-old in it.
Unemployment did not miraculously improve when the Dow hit 10,000 yesterday.
Monserrate: sort of not guilty.
Assessing Hillary's presidential ambitions–on a scale of "William Tecumseh Sherman" to "Hillary Rodham Clinton."
HBO wants to save the Garment District.
Living at the AIG building like carrying Louis Vuitton or an iPod. Also, could soon have lasers.
Paterson was right. These budget cuts look uniformly painful.
Is it possible those Goldman profits aren't so golden?