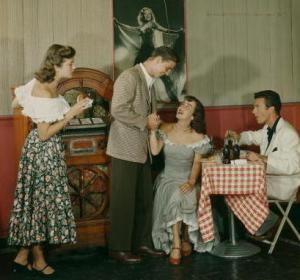 The Times reports today that some people do not eat fancy foods on dates. "It's awkward to have somebody spend hundreds and hundreds of dollars on dinner before you really know that you like them," said one New Yorker with whom Melena Ryzik spoke.
Ryzik–who tends to get saddled with the unenviable task of explaining youngish-person things to the Times reader–recounts the many non-filet-mignon foods now being eaten on dates: burgers, pizza, fried chicken, noodles. It seems that despite lacking the usual romantico-sexual amenities ("white tablecloths, graciously discreet service, food that was refined but not remarkably so"), purveyors of such cuisine manage to foster successful courtship. One couple interviewed is still together a year after eating their inaugural chicken liver sandwiches.
Writes Ryzik:
Really good pork bun trumps corner banquette; comfort trumps stuffiness; and cheap is no longer an epithet.

"If you can spend under $80 for a nice date meal, you're definitely feeling good about it," said Andrew Steinthal, a music executive. "Twenty dollars," countered Rachel Wharton, a writer, whose ideal first date is hitting the taco trucks in Sunset Park, Brooklyn.
But there is actually an entertaining story lurking behind all this. When Ryzik starts talking to people who use unconventional food to stage "distraction dates," and the waiters who can see right through internet couplings, the article becomes kind of great.
Also, while the headline is "Tater Tots for Two: It's a Date," nowhere are tater tots actually discussed as potential date-night fare. They are someone's hypothetical conception of cheap food.