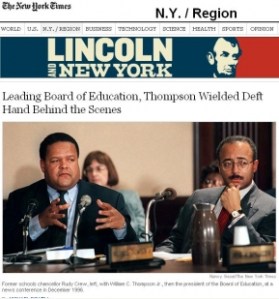 Azi Paybarah notices that, earlier today, the Times gave Bill Thompson a nice headline: "Leading Board of Education, Thompson Wielded Deft Hand Behind the Scenes."
Now, for some reason, the headline is a little more muted: "In School Post, Thompson Was a Conciliator." Which doesn't have quite the positive, Bloomberg-campaign-refuting force of the first one.
Azi asked a Bloomberg spokesman if anyone from the campaign had complained to the Times about the original headline. The spokesman said no.