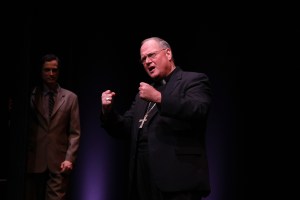 So The Times ran a light-hearted look at Archbishop Timothy Dolan's new blog this morning, poking a little fun at his technological shortcomings, and describing his subjects so far as boilerplate blog fare, at least for a priest: "war and peace, health care, abortion, charitable giving. The people he has met since taking the job six months ago. Baseball." They even included a link.
Well, add another tag to the archbishop's blog. This morning, Archbishop Dolan capitalized on all that Times' traffic by posting a rant that accuses the paper of being anti-Catholic and blasts it for four stories from the last two weeks:
On an October 14 story about abuse in the Orthodox Jewish community: "[P]apers such as the New York Times only seem to have priests in their crosshairs," the archbishop writes.
On an October 16 story about a Franciscan priest who fathered a child: "[O]ne still has to wonder why a quarter-century old story of a sin by a priest is now suddenly more pressing and newsworthy than the war in Afghanistan, health care, and starvation-genocide in Sudan. No other cleric from religions other than Catholic ever seems to merit such attention."
On an October 22 story about Anglicans visiting the Vatican: "[F]or them, this was another case of the conniving Vatican luring and bidding unsuspecting, good people, greedily capitalizing on the current internal tensions in Anglicanism."
But he saves the best for last Sunday's "intemperate and scurrilous" Maureen Dowd column: "In a diatribe that rightly never would have passed muster with the editors had it so criticized an Islamic, Jewish, or African-American religious issue, she digs deep into the nativist handbook to use every anti-Catholic caricature possible."
This morning's Times' article ended with a playful jab about the archbishop getting the hang of this "blogging thing." Perhaps he understands it a little better than The Times thought.