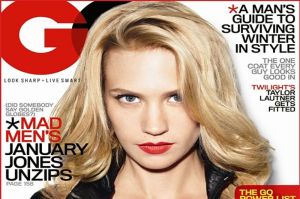 Tired of clicking around YouTube and iTunes for online videos of substance? Search no more! The Observer has your weekly handy guide to what's worth watching on the Web.
GQ's how-tos – With GQ's individual Web site finally breaking free of men.style.com, deputy editor Michael Hainey told the Observer that video will be a major focus. A few examples? There's the popular video of cover girl January Jones looking icey hott during her photoshoots for last month's magazine. Or you can check out some of their how-to videos, from creative director Jim Moore showing you how to buy a suit, or Mr. Hainey himself explaining Project Upgrade, a GQ makeover for guys on city streets.
Details' how-tos – Ohhh! It's a Conde men's monthly style video smackdown! Details, believe it or not, also considers itself a style leader. So the magazine asked New York comedians Max Silvestri and Gabe Delahaye to create a Web show offering "man style" tips on everything from fitness to hosting a dinner party to "looking amazing" because "you never know when you'll run into a millionaire!" (click on the humor tab to find all of 'em). We have to admit, these "mesh-shirt-wearing style experts" are way more fun to watch than any editor on GQ going on about tailoring. And Web editor Paul Katz told the Observer a new series of Max & Gabe videos will be on the way soon.
Mike Bloomberg TV and NYC's Video Voter Guide – It's the time of the season for political campaign TV ads, along with the return of the city's Video Voter Guide! And as part of Mayor Michael Bloomberg's "spare-no-expenses, take-no-risks bid for a third term," his campaign team is releasing a slew of TV ads and online videos to get voters to the polls. He has his own YouTube channel here if you want to tally up all the videos his team is pumping out. One of the most viewed ? Matt Damon saying he "highly endorse"s Bloomberg.
Alice in Wonderland extended trailer on SpikeTV – Whether you love or hate the fact that director Tim Burton is taking on the children's classic, his film adaptation is sure to be visually… interesting. Check out an extended trailer, and don't miss the super creepy shot of Johnny Depp in full make-up as the Mad Hatter. Yikes!
Wired's picks for 5 Spooky TV Shows You Can Watch Online – Wired's Underwire blog has a few choice picks for scary TV shows that are available on the Web. There's Twin Peaks at CBS.com, Iron Chef America's Halloween special, The Simpsons' Treehouse of Horror XX, The Twilight Zone at CBS.com, and (our personal favorites) Adam Curtis' The Living Dead and The Power of Nightmares. We'd also like to add in A&E's Extreme Paranormal documentary series into the mix, which was recently added to Hulu's archive.