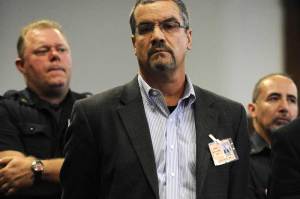 Over the past year, Armen Keteyian, the chief investigative correspondent for CBS News, has reported on cyber-thieves in New Jersey, murder-for-hire plots in Wisconsin and teenage bomb-makers in Atlanta. But these days, Mr. Keteyian is hard at work on a story much closer to home—namely, alleged blackmail plots within his own newsroom.
On Oct.3, two days after news broke of the alleged blackmail attempt of David Letterman by 48 Hours producer Joe Halderman, CBS Evening News executive producer Rick Kaplan told The Washington Post that the network would be reporting the story as though it were a scandal in the Commerce Committee.
Afterward, TV news veterans were skeptical. But, according to The Observer's sources, Mr. Keteyian and his team of producers are actively investigating the love triangle gone horribly awry between the CBS Late Show host; his former employee Stephanie Birkitt; and the suspended-with-pay Mr. Halderman.
There has been much speculation about how CBS will handle the situation internally. On Oct. 5, CBS legal counsel Louis Briskman seemed to suggest in an interview with AM Law Daily that the network's legal team was working on an in-house probe. However, a CBS spokesperson later clarified that the network's lawyers were only cooperating with outside law enforcement authorities—not conducting their own inquiry.
Reporting on bleeding news stories within your place of employment is never an uncomplicated task, and if they gave out Emmys for most awkward news assignments, Mr. Keteyian's current work would certainly be a strong contender for consideration in 2009. "Think of the ironies here and the awkward position for the CBS corporation," said one of Mr. Halderman's former colleagues. "Anything they dig up that mitigates Joe's position hurts Letterman—a much bigger consideration."
Whether the story ever makes it to the airwaves remains to be seen. But current and former CBS News staffers who spoke to The Observer said they'd be surprised if the news divisions pulls any punches. "From having talked to some friends there, who are pretty highly placed, they really want to hit this story hard, like any other journalistic story," Dr. Bob Arnot, a former CBS news correspondent and friend of Mr. Halderman's, recently told The Observer. "They want to be ahead of the pack because it's in their own house."
To date, the CBS Evening News has done one story about the alleged $2 million blackmail plot, which Jeff Glor reported on Friday, Oct. 2—and which was more or less similar in tone and content to the coverage on ABC's World News and on NBC's Nightly News. Since that first night, the evening newscasts have pretty much moved on.
The morning shows, however, had a weeklong field day with Mr. Letterman's confession of having slept with several of his employees. Leading the charge was NBC's Today, which cranked out a number of juicy stories exploring various angles of Mr. Letterman's titillating affair with Ms. Birkitt. Along the way, Dan Abrams stated that "there's no question that CBS can't completely separate themselves from this." And Al Roker called the Letterman story "the gift that keeps on giving."
At a time when CBS and NBC are locked in a late-night ratings battle, Today's coverage of the unflattering story raised some hackles at CBS. "They certainly have a vested interest in tearing down Letterman to bolster Conan (that's a losing effort so far)," emailed one of Mr. Halderman's former colleagues. "Also, they enjoy making 48 Hours look bad—it's a competitor to Dateline, which chases the same crime stories. You can be sure the next time Dateline producers are competing with 48 Hours on a story they will mention this episode to the characters. So NBC's hyper-coverage certainly can be explained."
In the meantime, staffers at CBS are curious about where Mr. Keteyian's reporting will take him. Will he get the first, extensive interview with Mr. Halderman? Not likely, according to Mr. Arnot, who said he has spoken and emailed with Mr. Halderman in recent days.
"What I know, as of the weekend, was that Joe was not going to participate at all in anything with CBS," said Mr. Arnot. "He wasn't giving interviews. He wasn't talking to them. He's been put strictly off-limits by his lawyers. He, his family, his friends are really withdrawing from any media interaction. I don't think CBS is going to have much of a home-court advantage here."
fgillette@observer.com