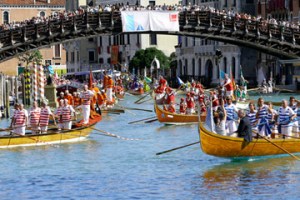 Ever since they'd first seen photographs of the Regata Storica (Venice Historical Regatta), my parents vowed to experience it firsthand. This fall, on the first Sunday in September, they attended this colorful and beautiful pageant & competition—and were not disappointed. It was an unforgettable sight, a true reconstruction of Venice's glorious past, as they watched the sporting gondolas flying down the Grand Canal. This is definitely one of my must-dos!
On their way to Venice, my parents stopped in Verona, a city on their "most wanted" list, well worth a few days to explore & get to know.
– My parents adored La Magioca, a relais in Verona's outskirts lovingly maintained by "The Signora" & her caring staff. 
– Verona's filled with dining gems—Villa Renzi for pizza & pasta, Pescheria I Masenini for seafood, and antipasti at Al Pompiere. 
– In Venice, the terrace of Palazzo Stern, once the home of a renowned art collector, is the prime locale for regatta viewing. 
– Keep the regatta theme going & board a gondola to the entrance of the romantic Ca Maria Adele—a perfect couple's hideaway. 
– After a day at the regatta, hire a water taxi to the island of Cavallino for an evening at Trattoria Laguna & take in a sunset. 
Search my files for Italy for more of my picks on what to do, where to stay & places to dine in this fabulous country.
Suzanne Aaronson, Co-founder of Suzanne's Files, is our Travel Curator. Stay in-the-know on her latest finds and insider tips by signing up to receive Notes from Suzanne's Files, a free e-newsletter.