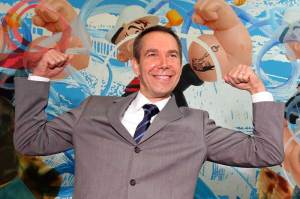 Jeff Koons and the British curator Norman Rosenthal are working on a book together that the Wylie Agency is currently shopping to publishers at the Frankfurt Book Fair. The book will be called The Confessions of Jeff Koons, and will take the form of an extended conversation between the two longtime friends.
The Wylie Agency hopes to see Confessions published in the fall of 2010, in coordination with the release of a film directed by Donald Rosenfeld, who produced a recent documentary about Andy Warhol, that will feature Mr. Rosenthal's interviews with Mr. Koons.
In an interview Tuesday, Mr. Koons, the post-pop artist best known for his huge, gleaming sculptures, told The Observer that one of his goals for the book will be to offer people a glimpse into the "philosophical base" of his work, and to correct some misconceptions about his artistic program.
"I think you always, as an artist, feel like you would like to be more and more specific about your intent and your interests," Mr. Koons said. "A lot of times, my work is looked at very much on the surface. It's very easy to just want to put something in a box—to say, 'Oh, since this work deals with surface desires at times, this is about consumerism.' And of course, the base of the work is … not about economics at all. It's about having needs met, but these needs are much more profound than economic needs."
According to the catalog of books for sale that the Wylie Agency has distributed at Frankfurt, Confessions will "dig deeply into the meaning and cultural significance of Koons and his work," and examine how the 54-year-old "has created an archetypal image of America for his generation." Wylie also promises that the book will survey Mr. Koons' "attitudes towards the contemporary art world and art market," and will examine "his ambitions and dreams for as yet unrealized projects." Furthermore, the book will offer a "probing" look at the artist's self-image, influences and autobiography, and will "meditate on the deeper meaning of Koons' ideas of grace, innocence, suffering, acceptance and ultimate happiness, as well as his views on the significance of sexuality in his art."
Mr. Rosenthal, who spent 31 years as the head of the Royal Academy in London before leaving the job in early 2008, is among the best known and most admired curators in the U.K. He is credited with transforming the Royal Academy from a sleepy, irrelevant institution into a vibrant and nimble one. During his time there, Mr. Rosenthal mounted landmark shows such as A New Spirit in Painting in 1981 and Sensation in 1997.
He has long been a champion of Mr. Koons.
"I remember the first time when I created the work Puppy, the large floral sculpture; Norman was the first person to come and see it in Arolsen, Germany," Mr. Koons said. "And at the time I felt a little vulnerable—I didn't know if the piece was going to be received well, and he just loved it, and it made me feel pretty confident."
Mr. Rosenthal described that experience as part of a public interview he conducted with Mr. Koons at Art Basel this past June. "I screamed when I saw the thing," he was quoted as saying in The Art Newspaper. "If Louis XIV saw this thing, he would have made [Koons] a Marquise right away."
Mr. Koons said that while he and Mr. Rosenthal are not planning to mount a show in conjunction with the publication of the book, there will be "opportunities to celebrate this friendship and the book that comes from it."
Mr. Rosenthal, who is currently at the Frieze Art Fair in London, declined to comment on the project "until it is a little bit more progressed," but in an email called Mr. Koons "one of the great artists of our time."
The Wylie catalog indicates that Confessions will be "neither a coffee table book nor a straightforward art book," but is intended to reach a trade—as opposed to academic—audience.
lneyfakh@observer.com