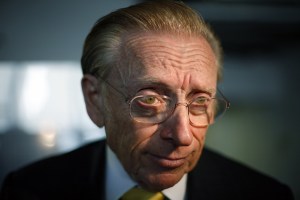 Larry Silverstein is talking about the World Trade Center site again. Mr. Silverstein and the Port Authority have been mum while they make their case to an arbitration panel, but he couldn't help himself at a recent real estate panel.
"There's not a hell of a lot I can say, for obvious reasons," he said. And then he went on to talk about it for half an hour, Downtown Express reports.
"Without a push from the private sector to move this damn thing forward, it wouldn't happen," he told the group. He said he's committed to staying at the site and had some choice criticism for the Port Authority, with the preface–always damning–that they're "not bad people."
"The unfortunate thing," Silverstein said, "is the people who built the Trade Center – the last major high-rise project they were involved with – are long since gone. And the people who are there today don't have the experience, don't have the ability, don't have the comprehension of what it takes, the need for timely decisions.

"You know," Silverstein continued, "the attitude is, 'I'll get back to you for the decision.' Construction doesn't wait for people who say, 'I'll get back to you.' You need the decision now."
The arbitration panel has already heard two weeks of testimony from Mr. Silverstein, and will now hear two weeks of testimony from the Port Authority. So the decisions won't start flowing anytime soon.