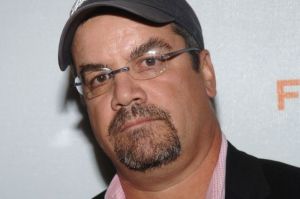 What would you think if you found out one morning that your golfing buddy was trying to shake
down David Letterman?
That's the surreal position that a number of CBS News employees found themselves in earlier today, following the stunning cascade of events that began Thursday night when the host of Late Night said on national television that he had been at the center of a recent blackmail attempt.
It wasn't long before news reports fingered Robert Halderman, a producer at CBS' long running crime show, 48 Hours Mystery, as the perpetrator of the alleged crime–threatening to go public with details of Mr. Letterman's affairs with CBS employees, if the late night star didn't turn over a check for $ 2 million.
Afterwards, all around the city, current and former CBS News staffers were left reeling from the news about their colleague, and madly speculating about his motives. Several knowledgeable sources speculated that Mr. Halderman was making somewhere between $200,000 and $300,000 from CBS. Even with two ex-wives and several children to support, why was he seemingly so desperate for quick cash? Perhaps it was his $6000-plus a month alimony payments, or his many mortgages.
"I'm shocked," said one associate. "I would never in a million years have suspected that he could do something like this. It makes me think, what it the world happened. Did he just snap?"
"I only know Joe to be a talented producer who has been responsible for turning out great stories for CBS News for years," said another former colleague.
Others were less surprised.
"If you said, which CBS News producer would be caught up in this thing, he would have been one of the first people to come to mind," said one associate. "His personality is one that pushes the envelope. As a breaking news producer that's what you need, but you could see how he would be living on the edge a bit."
Inside CBS, Mr. Halderman, whom everyone called Joe, was known as a top notch, hard news producer–and a veteran of many war zones. He was also an avid golfer, who regularly played rounds in Connecticut with his colleagues at CBS, including his close friend CBS News national editor Bill Felling, and the likes of 60 Minutes Executive Producer Jeff Fager, and CBS News editor Andy Soto.
Friends and colleagues described Mr. Halderman as a sharp-witted guy who was always up for having fun. "Joe's a friendly, boisterous, slap-you-on-the-back kind of guy," said another former colleague. "Sort of a Vince Vaughn type, but more serious and not goofy. A guy's guy. Someone you want to have a beer with."
Others described Mr. Halderman as confident bordering on cocky–a swashbuckling war producer, who walked around with his chest puffed out, and could rub some colleagues the wrong way with his bravado.
"He could be sent into any situation and would come back with the goods," said another colleague. "I think the personality that allowed him to do also could be a little abrasive at times around the building. He had a reputation for being a bit of a swashbuckler, a little bit in your face, a little cocky."
He was also known among some colleagues as a tireless flirt. "I could see how his personality, being a man's man, could be off putting to women in particular," said a former CBS News employee. "But obviously not to several I know here, who married or dated him."
Mr. Halderman has worked at CBS for several decades in a range of producing jobs. For years, he worked in CBS's northeast bureau, where, according to sources, he met his first wife, who worked as a secretary at the bureau. He eventually did a stint working for the CBS Evening News, and was then reassigned to London, where he developed a reputation as star producer–a kind of breaking news cowboy who could ride into any situation around the world, no matter how perilous, and walk away with a great story and a smile. No sweat.
While in London, Mr. Halderman divorced his first wife–and subsequently married a woman who had worked as a translator for CBS News and had three children from a previous marriage. According to sources, Mr. Halderman and his second wife had two children together before eventually splitting.
In the '90s, Mr. Halderman moved back to New York, and began working at 48 Hours–which, under the leadership of executive producer Susan Zirinsky, has become a sort of all purpose production house for CBS entertainment, CBS News, and even Showtime. Ms. Zirinsky and Mr. Halderman are said to be close, having worked together on and off at CBS News for several decades.
According to published reports, Mr. Halderman was until somewhat recently in a long term relationship with Stephanie Birkitt, 34, who previously worked as an assistant to David Letterman (and, before that, as a page for 48 Hours).
In conversation after conversation on Friday afternoon, Mr. Halderman's colleagues wondered out loud how such a smart person could do something seemingly so stupid. After all, Mr. Halderman works on a show, 48 Hours, in which week after week, year after year, criminals are shown, hatching harebrained plots and eventually getting their comeuppance.
In the end, many of those who know Mr. Halderman offered a psychological explanation–perhaps it was a matter of personality. After all, what sometimes makes a great war producer is, in part, the ability to stride into dangerous situations without a flicker of self-doubt or anxiety about the future. A willful belief that everything will work out, despite the high-risk of danger.
Perhaps it was that same sense of confidence and invincibility that allowed Mr. Halderman to try and allegedly blackmail the late night star of his own network, despite the ostensibly terrible odds of pulling off such a crime.
"It's arrogance," said one former CBS staffer who knew Mr. Halderman. "After you've been in so many war zones and escaped, maybe he feels invincible. I guess it's a chicken and egg thing. Do you have that personality to begin with? Or do you get more and more cocky as time goes by?"