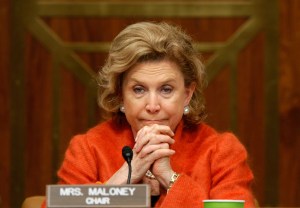 Might Carolyn Maloney end up in a primary after all?
The East Side Congresswoman mulled a primary challenge to freshman Senator Kirsten Gillibrand over the summer, but ultimately opted not to risk her seat in the House gambling on a long shot Senate bid.
Now she might have competition for her House seat. Azi Paybarah reports that Reshma Saujani–a former lawyer for Hillary Clinton's PAC and a former intern in the Clinton White House–is considering challenging Ms. Maloney in next year's Democratic primary.
Ms. Saujani has a compelling personal story–she's the daughter of Ugandan immigrants–and she's already established herself as quite a fundraiser, after earning degrees from Harvard and Yale. But Ms. Maloney has the distinct advantage of incumbency; she's been entrenched in the seat since 1992, and she's fended off challengers before.