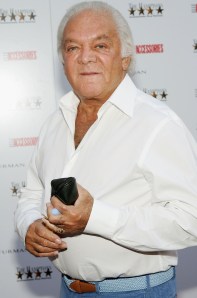 By the rules of New York real estate, the greatness of any apartment saga is measured by its eccentricity, length and weight. So a furious but short-lived fight over a condo is trumped by a run-of-the-mill but lengthy feud over a co-op, which is trumped by an epically long, cinematically peculiar struggle over a rococo duplex.
When you're lucky, rabbis and red ants are involved, like at the Apthorp; or it's a Jordanian princess fighting her elderly boyfriend's sons for his duplex at the Pierre. And then there's Marty Richards' Homeric effort, now well into its 10th year, to sell his 14-room maisonette at the River House. According to a brokerage database, Kathy Sloane is handling Mr. Richards' apartment once again, her third time with the listing.
It's been hard. The gated East 52nd Street co-op, home to Kissinger, has turned away Gloria Vanderbilt, who sued, and Joan Crawford, who is said to have then put up the East River's famous Pepsi sign because Coca-Cola's president was in the co-op.
Brokers are not allowed to say the River House's name. Listings mention its anonymous street address only.
Mr. Richards, the septuagenarian Chicago producer, has been trying to sell his apartment since March 2000. That was his first go with Ms. Sloane, the Brown Harris Stevens managing director known for her work with the Clinton family. She had a buyer, the chief executive of the world's largest pork processor and hog producer, but he walked away from a $17.5 million contract. His new wife wanted to be on Park Avenue.
"I live in L.A., and I thought I'd seen it all," director Bill Condon said about the duplex in 2003, when a Jean Dufy was hanging in the powder room, and a four-person tub in the master bathroom was below the owner's initials on a gold-and-blue rococo ceiling. That year, the producer's tag was down to $11.5 million.
In 2006, after a renovation, it was up to $29 million with Sotheby's. A year later, when that firm lost the listing and Ms. Sloane got it back, the price was $22.7 million. "I think now," the broker said then, "we have it at a very realistic figure."
By the end of that year, the apartment was in contract again, reportedly with a fashion trade-show mogul named Elyse Kroll. But the deal fell through, apparently because the buyer's name had been leaked to the press, and, of course, Ms. Sloane was under investigation in Albany for tax evasion (the state later dismissed charges).
The listing went to Ann Jeffery, the broker who just sold a $29 million co-op at 834 Fifth Avenue. Her tag for the Richards duplex was cut to $18.9 million last October, but that didn't help: A year later, she's no longer handling the apartment, according to her Web site. And its price is down to $13.9 million.
Upper East Side brokers don't quite know what to make of it. "Someone else told me that, just on Friday, and I said, 'Bullshit, bullshit, bullshit, bullshit,'" one top broker offered. "It's a little puzzling! She has it; she doesn't have it; she has it? But Marty's very volatile," said another.
Mr. Richards did not return a message, and an email from Ms. Sloane's assistant said she wouldn't be available. "Let me just say this," Ms. Jeffery said. "I'm very happy with the decision, and I wish them all the success in the world."
Update, Thursday 12:36 PM: The listing is finally online! And the price is $13.9 million.

mabelson@observer.com