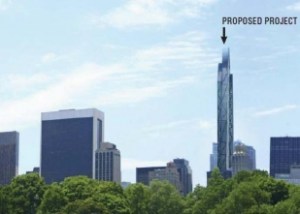 To the courts!
The City Council approved the controversial MoMA tower yesterday afternoon by a vote of 44-3, which is supposed to be the last step in the approval process, but is really just the last step before the inevitable lawsuit challenging the approval process.
So it's just barely even news that an opposition group said yesterday it's likely to file suit against the Jean Nouvel-designed tower.
The tower is controversial–it rises 1,050 feet over West 53rd Street–but it's unclear exactly what the grounds for legal action would be. The MoMA tower doesn't seize any land under eminent domain, so it's not subject to the thorny litigation that's plagued the proposed Atlantic Yards development and could affect the city's plans for Willets Point. The best guess it that it would be an environmental challenge, and those suits don't have particularly high rates of success (though longshot wins are possible; see, for example, Westway).
Assuming it doesn't sink the project, a legal delay might not hurt the developer, Hines Interests, given the current market conditions. A Post article last week speculated that the unfinished designs Hines took to City Planning–which cost them 200 feet off the top–might have been a plan to sabotage their own project.
One interesting note from the Council vote: Dan Garodnick–whose district starts just south of West 54th Street and includes a sizeable number of the tower's opponents–voted against the project. But since the building actually lies in Council Speaker Christine Quinn's district, Mr. Garodnick wasn't pressed to rally his fellow Councilmembers and invoke the usual home district deference that members accord to projects in each other's districts.