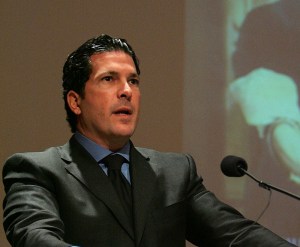 Joseph Tacopina, that famous and formidable defense attorney, is getting a reality show.
The Hollywood Reporter says the show is called "Legal Ease."
The daily reality show will revolve around lawyers giving advice to everyday people. Stories will be shot on location, and advice will be dished out in-studio by Joseph Tacopina, head of the firm, and a panel of legal eagles.
Mr. Tacopina has represented the teenage girl in the Peter Cook-Christie Brinkley love triangle; one of the Dutch teenagers suspected of killing Natalee Holloway in the Caribbean; rapper Foxy Brown; and Frank Tyson, the Michael Jackson assistant who was accused of covering up the singer's trysts with young boys. He also filed the paperwork for the family of Harry Houdini to have the magician's body exhumed.
Lately, Mr. Tacopina has been in the news for defending State Senator Hiram Monserrate, who was convicted of a misdemeanor but dodged several felony charges last week. It was Mr. Tacopina, in an appearance on Good Day New York, who let slip the big news that Mr. Monserrate will be marrying his girlfriend Karla Giraldo sometime after the restraining order is lifted.