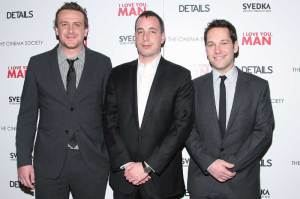 On Monday, Oct. 26, Daniel Peres, the chummy 38-year-old editor in chief of Details, was standing in his carpeted office on the eighth floor of Condé Nast's 42nd Street tower, cupping his hands around his eyes and squinting through his wall-size window.
"We were always looking in, you know, watching this party happen," he told The Observer. "Really attractive people would go in and drunk people would stumble out, and we'd just be watching it," he said, turning around and plopping down onto a plush, tan chair in front of his desk. He was dressed in crisp jeans and a white-and-blue-striped button-down shirt.
"It's nice to finally be at the party," he said.
Mr. Peres was referring to the party known as, well, the Internet, to which Condé Nast has arrived not-so-fashionably late.
Last week, Details launched its own Web site, finally breaking off from its former online home at men.style.com, which the men's monthly shared with brother publication GQ. The change had been planned since July, when Condé Nast Digital president Sarah Chubb announced that the men.style.com "destination site" would change into GQ.com. The company hopes that two separate Web sites might entice more high-end advertisers that are familiar with the print titles.
Men.style.com had been overseen by Condé Nast Digital, and magazine editors and writers were given strict publishing schedules for the site's content. Staffers were only allowed to send new magazine content twice a month and were restricted to a certain number of photo slide shows, quizzes and additional features. There were no daily blogs, sparse commenting features and mostly faulty search functions. Worse, article URLs had mucky Web addresses, with a men.style.com slapped on them, which confused readers and bruised writers' egos.
"It was a nice little science project we rigged up," said Michael Hainey, GQ's deputy editor, referring to his magazine's former online home. He was in a conference room with GQ's in-house multimedia editor, Andy Comer, and assistant Web editor, Andrew Richdale, who together run the just-launched GQ Web site. Mr. Hainey, in a camel-colored corduroy jacket and tailored jeans, offered a tour of GQ.com on a giant screen, pointing out two new blogs, online forums, how-to videos, podcasts and GQ's City Guide feature with a grease pencil. He describes the new site to GQ staffers in a language they understand. "I call it a Mini Cooper: it's nimble, it's fast, it looks great," he told The Observer.
"This is where a man begins—he searches for his life here," he said.
But touting a Web site where writers can blog (wow!) and readers can comment back (gee whiz!) seems a little silly in 2009. Sure, both sites are gorgeous, with simple design and lots of potential, but the joke among Details staffers is that, even now that they finally have a functioning Web site, "it's very 1999." Mr. Hainey, for his part, figured GQ was slightly more advanced. "We're very 2002 right now," he told The Observer.
Well here's something a little more exciting: Last week, GQ also announced that the magazine will have a new iPhone app, available for $2.99 per issue, debuting with their crown jewel: the December "Men of the Year" edition. They expect it to be available in the iPhone app store the day the print publication hits newsstands, Nov. 18. (Though, with that price tag, why one wouldn't just cough up two more dollars for the print edition and all its shiny photos is a bit of a mystery.)
Elsewhere at the Condé Nast Digital revolution: Wired is working with Adobe to get content on mobile screens besides the iPhone; The New Yorker is the most subscribed-to magazine on the Kindle; and Concierge.com (the online home of Traveler) just yesterday announced a new app that will allow users to turn vacation photographs into emailable postcards. Condé Nast Digital senior product manager Chris Gonzalez told The Observer that "tons of other apps" are in the works. "Every publication is asking, 'When can you make one for my magazine?'" he said.
DESPITE THE SUCCESSES of sites like Wired.com and recipe resource Epicurious.com, Condé Nast has often been accused of forgoing quality Web sites to save glossy print titles. Fearing that the Internet would "cannibalize" print sales, Condé Nast built sites for most magazines that seemed more like teasers than destinations—they existed online simply so that readers might be enticed to click on the "subscribe" button to get the all the good print stuff.
But in the post-McKinsey age, some Condé Nast executives are eager to mark the launches of Details.com and GQ.com as a glittering new beginning for the company, where attempting to make money off the Web will (finally) get its due focus in 2010.
Condé Nast Digital's newly named publisher, Josh Stinchcomb, who was formerly in charge of ad sales as executive director of Condé Nast Digital Business Group, said more mobile apps, e-commerce and premium paid subscription models (like the one already adopted by Condé Nast Digital's niche technology site Ars Technica) are on the way. He also said that along with a Golf Digest Web re-launch in January, two new Condé Nast sites will debut during the first half of the year. "There's no reason for us to not experiment, and we'll find the right approach," he said.
Mr. Peres, for his part, is getting his Web legs by leaning on Paul Katz, Details.com's new Web editor. "It's actually really hard; I'm a magazine guy, we're print people," he admitted. "I have to learn a new language. I have to learn to say things in a smaller space, I have to say things on a daily basis, not a monthly basis. That's why it's good to bring on guys like Paul, who are Web-fluent. I'm more like a Web illegal."
greagan@observer.com