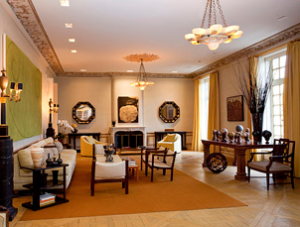 Earlier this year, ex-Morgan Stanley vice chairman Bruce D. Fiedorek quietly wanted around $45 million for his enormous fifth-floor sprawl at the enormously fancy co-op 998 Fifth Avenue.
For one reason or another, Mr. Fiedorek was not quite ready to publicly list the apartment, or talk about it: "I have no reason to discuss any of this, thank you," he said. Kathy Sloane, the marvelously serious high-end broker, invited a group of agents to see the co-op back then, but made people sign confidentiality agreements—and wouldn't share the address of the building until one hour before the visit. "I," she told this reporter in April, "cannot confirm nor speak about any apartment on the market at 998 Fifth Ave with the exception of 3/4E"—the duplex she's also listing in the building for $25 million. "I think it's dangerous to write about things in which you're not thoroughly familiar."
Half a year later, the apartment has an official listing, and at a slightly more modest price! According to Ms. Sloane's Web site, $34 million—plus a $10,738 monthly maintenance—will buy you "a space and as gracious as any apartment in the world," and one with "a very European sensibility."
The 18-room, five-bedroom, two-fireplace apartment apparently stretches for 102 feet along Fifth Avenue. It has a 12-foot ceilings and "extremely large French windows"; a 38.5-foot-long living room; a dining room that happens to be paneled in "pale 18th century American chestnut"; a media room; a gym; and a master suite with a sitting room, his and hers bathrooms and two walk-in closets. Still, the billionaire Len Blavatnik paid only $27.5 million for the apartment one floor down, and that was in January 2007, back when the world was a much happier place.
If Mr. Blavatnik is interested, and wants to spend $59 million on Ms. Sloane's two listings, he can make quite a triplex. But then again modesty is in these days: Mr. Mack, the outgoing chief of Mr. Fiedorek's old firm, just bought up a new Manhattan home for only $13.5 million.