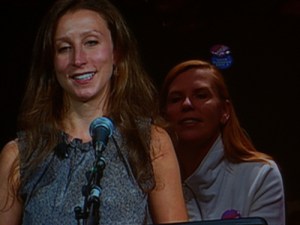 Michael Bloomberg could win a third term with the lowest vote total of any mayor this century, warns Sam Roberts.
Bloomberg and Bill Thompson debate tonight.
Frances Villar doesn't debate tonight.
Someone tries convincing Clyde Haberman that "Sometimes the rule of law needs to be bent without being broken, for the good of the most people."
Randy Mastro is suing the Working Families Party for allegedly skirting campaign spending laws.
The suit also hits ACORN.
Nicole Gelinas has questions for Bloomberg and Thompson about the economy.
Christine Quinn "all but begged" reporters to ask her about the mayoral endorsement.
City officials refute an NYU and Yale University study that said the calorie count didn't affect people's eating habits.
Looks like there'll be no individual merit pay for teachers. It'll be done schoolwide.
"Kind of makes it hard to call it merit pay anymore!" writes Thomas Carroll.
Hybrids cause accidents for the MTA.
Older students won't get swine flu vaccines first.
Bob Kappstatter wonders if Oliver Koppell will get a bad committee assignment for endorsing Bloomberg.
Election budget problems in Suffolk County.
Steve Levy's spokesman says his boss is popular among Latinos, just as Newsday's poll said.
Bloomberg's company is big outside America.
The Bloomberg campaign is trying to get people to Tweet for Mike.
Barnett Zitron does own a suit.
The Thompson mobile. And pictured above is Emma Bloomberg, who spoke at a Women for Bloomberg rally last night.