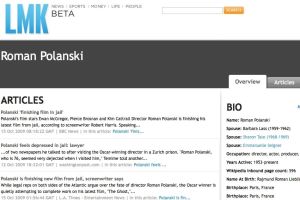 Last Friday, at the World Media Summit in Beijing, chief executive of the Associated Press Tom Curley and News Corp's papa lion Rupert Murdoch continued to growl at aggregators like Google News, YouTube and Wikipedia for "stealing" their content.
"We will no longer tolerate the disconnect between people who devote themselves—at great human and economic cost—to gathering news of public interest and those who profit from it without supporting it," Mr. Curley said, according to the AP's report (which was, of course, posted in full on Google News). "The aggregators and the plagiarists will soon have to pay a price for the co-opting of our content," Mr. Murdoch grumbled. "But if we do not take advantage of the current movement toward paid-for content, it will be the content creators, the people in this hall, who will pay the ultimate price and the content kleptomaniacs will triumph."
The AP and News Corp. are currently circling blogs and aggregators, preparing to attack with their "news registry" system that intends to catch unlicensed use of their content and punish publishers with fees. It's set to debut within the next five weeks.
Meanwhile, in New York, Hearst was cozying up to aggregators—by launching one of their own.
Hearst's Let Me Know, at LMK.com, is a 2.3 million–page portal of articles, photos and data, sprinkled with "a little special sauce to make it look good," according to Hearst Entertainment executive vice president George Kliavkoff, who helped spearhead the project. He was previously the chief digital officer at NBC, and helped launch Hulu.
Users can type in celebrities, politicians or companies and find topic pages featuring photos, news articles, basic facts, even graphs displaying how many times the topic has appeared in headlines during the past month (see this Obama page for an example). Material is collected from sources both inside and outside Hearst itself.
LMK, which is still in its early development stages, currently has just one specialized vertical: college football. To create it, Hearst Entertainment hired Bob Roe, a former managing editor at Sports Illustrated, to pluck what he considers the most reliable sports news services and blogs online to help feed information into the site. They've also established a partnership with a sports stats service.
"I think most aggregators don't think about design at all," Mr. Kliavkoff told The Observer in an interview. Certainly, Google News' stacks of blue and green links are pig piled in columns based on traffic stats. Their design philosophy is based on simplicity)—which isn't always pretty. "It's a great opportunity for us to offer not just content but rich, beautiful design," he said.
Hearst Entertainment's experiment comes from the company's new digital incubator and tech startup investment arm run by Mr. Kliavkoff. LMK.com is run by Michael Gutkowski, a founding member of Martha Stewart Living Omnimedia and former senior vice president of digital for Time Inc.
The mostly automated LMK.com aggregator needs just one person to babysit its content, according to Mr. Kliavkoff. "It's a low-cost business," he told The Observer. And he expects it to bring in revenue by charging for premium content and even licensing the publishing platform's back-end technology to other publishers. Those honed topic pages will also be appealing to Hearst's national and local advertisers, Mr. Kliavkoff said.
An LMK reality television section will launch within the next month, along with life, medicine and other verticals that are coming soon, according to Mr. Kliavkoff.