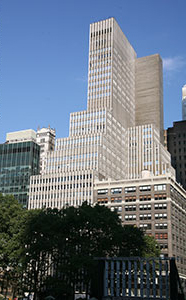 Jimmy Kuhn, president of brokerage Newmark Knight Frank, was in a chipper mood on Monday morning. And who could blame him? New York commercial real estate may be about as cadaverous a field as New York media, but Newmark has been winning some notable battles in the ceaseless blood feud between city brokerages.
Newmark has poached yet another building agency from one of its rivals, winning the leasing responsibilities for the Blackstone Group's 34-story tower at 1065 Avenue of the Americas from Cushman & Wakefield.
This follows Newmark's recent and well-publicized plunders of leasing agencies from CB Richard Ellis at both 100 Church Street and the Empire State Building. In the case of the Empire State Building, the landlord hired Newmark after the defection of the tower's leasing agent, CBRE's Steve Eynon, to Jones Lang LaSalle.
Landlord Tony Malkin said he could not follow Mr. Eynon to Jones Lang thanks to a 1997 agreement with the Helmsley estate that mandated he hire leasing agents only from Cushman, CBRE or Newmark. "We had to move very, very, very quickly, and a group with whom we were having really strong success at the time was Newmark and the Billy Cohen group," Mr. Malkin said.
For his part, Mr. Kuhn said, "I think in tough economic times, clients want more hand-holding, want senior brokers committed to buildings, and we have always done well under those circumstances. Our top four landlord agents, [David] Falk, [Brian] Waterman, [William] Cohen and [Scott] Klau, are partners, and the clients love that they are getting the most senior guys in the firm to handle their buildings."
The tower 1065 Avenue of the Americas, at 40th Street, is a nice prize, with nearly 200,000 of its 665,000 rentable square feet vacant, according to real estate database Costar.
Neither Cushman nor CBRE nor Blackstone would comment. Nor, for that matter, would SL Green, the landlord at 100 Church.
drubinstein@observer.com