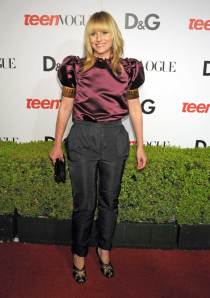 The TeenVogue Handbook: An Insider's Guide to Careers in Fashion offers advice and real-life success stories about breaking into the fashion industry. "I hope for kids that they will just be totally inspired by the stories of these people making careers out of nothing in a way," said TeenVogue editor Amy Astley at a party for the book at the Gramercy Park Hotel's Rose Bar on Tuesday, Oct. 15. "Just out of dreams. With no road map, no paths, no school—you know it sounds cheesy, it sounds corny, but when you're grown-up, you know it's true. A lot of the kids who read TeenVogue tend to be … creative, creative souls. You know they think, 'I don't want to be a lawyer, I don't want to go to medical school. How do I—what's the path?'"
Nearby, children were struggling with an oversize billiards table.
"Yeah, sorry! There are kids everywhere!" Ms. Astley said. "I always tell my friends to bring their kids. It's all about kids at TeenVogue! My girls are over there."
She pointed to two lean preteen beauties slithering quickly across the pool table, wearing T-shirts and unruly blond ponytails. "No, I don't give them style advice. They're not interested in style advice. They dress themselves and I think they look great. I love to see what young people choose to wear, even 7- and 10-year-olds."
Socialite Amanda Brooks' kids scrambled after the young Astleys. A pool ball shot off the table toward one of the doorways; it went unnoticed as the photographers clamored after designer Vera Wang, who had just made her entrance with her daughter, Josephine Becker, who interned at TeenVogue last summer. "I haven't read the book yet, but I will," Ms. Becker said.
Is she planning to go into fashion?
"I haven't really decided yet, but considering who my mom is, there is a pretty good possibility."