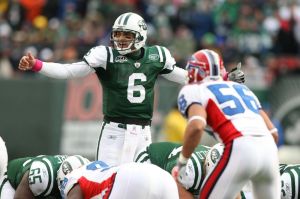 J-E-T-S. Jets! Jets!
*choking sound*
Last time we checked in with the Jets, they were winning games yet struggling to crack into the Top Ten in the TV ratings.
Now, all that has changed.
This week, in a dramatic reversal, the Jets made our list, not once, but twice! And in true Jets-like fashion, they did so with a familiar style, dropping both games in teeth-gnashing, last second, are-you-kidding-me heart breakers.
While losing twice in one week on national television to division rivals is no picnic, beating NCIS and The Mentalist in the ratings should give Mark Sanchez a big boost of confidence heading into week 7.
(1) Fox-5….ALCS Game 2….2,051,000
(2) Fox-5….ALCS Game 1….1,969,000
(3) CBS-2….Bills beat Jets, 16-13 (OT)….1,802,000
(4) CBS-2….60 Minutes….1,219,000
(5) ABC-7….Dancing with the Stars (M)….1,113,000
(6) ABC-7….Dancing with the Stars (TU)….1,033,000
(7) WCBS-2….NCIS….992,000
(8) WCBS-2….Mentalist….978,000
(9) WABC-7….Grey's Anatomy….976,000
(10) ESPN….Dolphis beat Jets, 31-27….900,000
Top 10 shows in New York, October 12 to October 18, according to Nielsen Data (total viewers, time shifting/DVR not included).