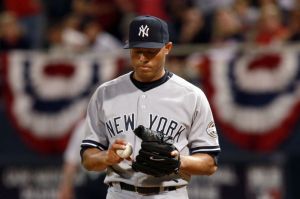 The Minnesota Vikings' victory over the Green Bay Packers on Monday, October 6, featuring Brett Favre's payback against his former franchise, generated cable's all-time biggest audience. But in New York, it was no match for the Yankees' thrashing of the Twins, which scored a hat trick at the top of last week's rankings.
(1) TBS….Yankees over Twins, 4-3….1,836,000
(2) TBS….Yankees over Twins 7-2….1,480,000
(3) TBS….Yankees over Twins 4-3….1,439,000
(4) WCBS-2….NCIS….1,066,000
(5) WCBS-2….Good Wife….1,022,000
(6) WABC-7….Dancing with the Stars….971,000
(7) ESPN….Vikings over Greenbay, 30-23….901,000
(8) WCBS-2….Broncos over Patriots, 20-17….895,000
(9) WCBS-2….60 Minutes….883,000
(10) WCBS-2….NCIS-LA….880,000
Top 10 shows in New York, October 5 to October 11, according to Nielsen Data (total viewers, time shifting/DVR not included).