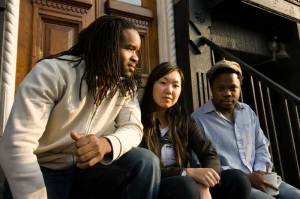 The bassist Linda Oh has an unusual background for a jazz musician. She was born in Malaysia to parents of Chinese descent. She and her two older sisters grew up in Perth, Australia. Their mother and father worked hard and encouraged their girls to do the same.
Ms. Oh's parents were overjoyed when her sisters became doctors. They were mortified when their youngest daughter told them she wanted to pursue a career as a jazz musician.
"They were like, 'No, you are not doing it. Don't even think about it,'" said Ms. Oh, a petite 25-year-old with long black hair parted slightly off-center. "Then it became, 'O.K., you are doing it, but you have to be a teacher. You can get a music education degree.' Which I never did."
This prompted a mischievous laugh. But her mother and father need not have worried: Their daughter is an unqualified success. In August, Ms. Oh played a gig as a leader at the increasingly indispensable West Village club (Le) Poisson Rouge. The New York Times' Ben Ratliff was in the house. He riffed ecstatically that her music was "smart and informed and hard working, full of real improvisation, the committed hard-won, lumpy, nontechnical, go-for broke kind."
It isn't every day you hear jazz celebrated in terms usually reserved for crème of wheat. It was obvious that Mr. Ratliff, a writer of impeccable taste, was smitten.
Shortly thereafter, Ms. Oh released Entry, her first album. NPR's Josh Jackson was reminded not of a sumptuous breakfast, but of a fascinating chemistry experiment. He wrote on the NPR Web site that Ms. Oh crafted "music that grows like cellular cultures on an agar plate of rich, vampy nutrient."
It was remarkable to read such rapturous prose about a musician who only arrived in New York three years ago from Perth, still a little wet behind the ears. Until last year, Ms. Oh was a graduate student at Manhattan School of Music.
But Ms. Oh deserves it. She has made a marvelous first album. And she is subtly advancing the cause of women in jazz—even though she professed in a recent interview over dinner at a Chelsea restaurant that she found the issue of gender politics in jazz rather tiresome.
"I really feel that women in jazz is the same thing as race in jazz," she said. "If people just forgot about it and listened to the music, then everything would be cool."
Of course, this is wishful thinking. Though women have been essential to the jazz movement since the days of Bessie Smith, nearly a century later, men still dominate the jazz world. They have innumerable jokes about female singers. ("How many chick singers does it take to sing 'My Funny Valentine?' Probably all of them.")
And that's the humor reserved for female vocalists, who have always been prized in the jazz world. The contempt for women instrumentalists is more acute. One male jazz bass player, reflecting a common attitude, told me that his female counterparts owe their careers to "horny old bandleaders."
But bring up Ms. Oh with these same late-night sages, and it's clear that their attitudes are starting to change. They don't relish the idea of competing for gigs with someone who looks as fetching in a cocktail dress as Ms. Oh does. But they admit—albeit a tad grudgingly—that she is their equal.
Ms. Oh first came to the United States in 2004 as a member of the now defunct International Association of Jazz Education's Sisters in Jazz program.
"There was a time when I was into the whole promoting-women-in-jazz thing," Ms. Oh said. "I mean, it's helped me out a lot. I wouldn't be here without Sisters in Jazz. Or maybe it would have taken me a lot longer."