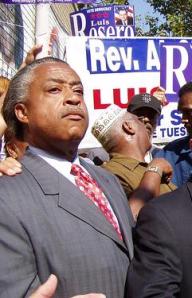 Errol Louis is out with a column this morning sharply criticizing Rudy Giuliani for comments he made over the weekend in Borough Park, where he warned that crime could rise to their pre-1993 levels if Michael Bloomberg wasn't elected.
Louis also criticized Bloomberg for defending the comment by drawing a comparison to Detroit.
"New Yorkers, all too familiar with gutter politics, reacted instantly," Louis wrote, before quoting a bunch of unhappy observers, like Bill de Blasio, Gabe Pressman and Fred Siegel.
Notably missing from the chorus of outrage, though, is the Rev. Al Sharpton, who is hardly one to keep silent on matters of racial justice. Especially when it involves Giuliani. The Giuliani-Sharpton relationship goes back a number of years.
Which is why I reached out to him earlier this week. Surprisingly, he hasn't had anything to say about the matter. On Monday I was told by his spokesperson that Sharpton has "been in back to back meetings" and not available to comment.