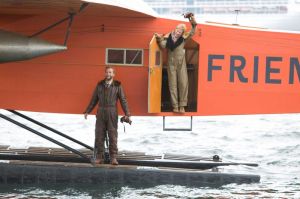 It's quantity over quality this weekend as a mere five films get released into the wild for your enjoyment. Add that to the even further expansion of Paranormal Activity and you've got yourself a logjam. As we do every Friday, here's a handy guide to the new releases.
Amelia
What's the story: The only thing worse than a bad movie? A bad movie that thinks it's an Oscar contender. With that in mind, say hello to Amelia. The Mira Nair–directed film about famed aviatrix Amelia Earhart lands today and the reviews use terms like "generic," "superficial," "lifeless" and even a spate of aviation-related puns to relay their disappointment. (To be fair, our Rex Reed was a fan.) Earhart doppelgänger Hillary Swank stars, hoping for her third Best Actress trophy in the past 10 years, though something tells us she shouldn't worry about making plans for Oscar night.
Who should see it: Capt. Chesley "Sully" Sullenberger.
Astro Boy
What's the story: Someday—and that day might come soon—the only movies being made will be animated. Or, at least it feels that way. Astro Boy is the latest to hit theaters, but it has the distinction of being one of the oldest; it's based on the popular Japanese magna series that was first published in 1952. That won't matter to the little ones of course, who'll just want to see this boy robot fly around and fight aliens.
Who should see it: WALL*E.
Cirque du Freak: The Vampire's Assistant
What's the story: If you can't beat them, join them. John C. Reilly becomes the latest actor to don plastic fangs with the hopes of biting (pun!) into the ravenous fan base that vampires have acquired over the past few years. Based on the young adult horror series about—you guessed it—vampires, traveling freak shows and an assistant, Cirque du Freak could be thought of as the poor man's Twilight, if only because they share both a studio (Summit Entertainment) and a bloodline (Paul Weitz directed Freak; Chris is behind the camera on the upcoming New Moon). And, y'know, vampires.
Who should see it: Bela.
Saw VI
What's the story: We were never good at reading Roman numerals, so it took us a second to realize that this is the sixth film in the Saw franchise. Seriously? Anyway, we haven't even seen one trailer—and we're pretty sure that Jigsaw, the baddie of the series, died three films ago—but, hey, if you liked the previous five, you'll probably find something good here.
Who should see it: Everyone who saw Saw V.
Also opening this weekend: Who's ready for some genital mutilation? Lars von Trier's much talked about Antichrist hits theaters and chaos is sure to reign. The best part: If you don't have a chance to see Antichrist, you can always just read all the spoilers about this thing already on the Internet. Not that we've done that …