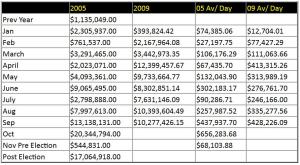 NYPIRG's Bill Mahoney shoots down the notion that Michael Bloomberg will fall short of spending $100 million this election cycle, and has data to back up his point.
Mahoney compiled this chart account for the fact that Bloomberg's campaign spending has tended to pick up, a lot, in the final weeks of the campaign.
"Before September 24th in 2005, Bloomberg spent $43,591,310, or 51.5% of his total spending. If he once again spends 48.5% of his money after September 24th, he will spend a total of $125,695,205 this year."
An astounding number, if it turns out to be right.