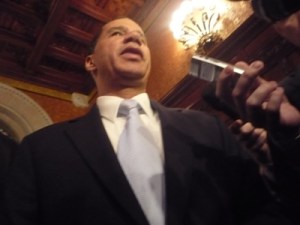 ALBANY—David Paterson is calling lawmakers back for a special session to deal with the budget deficit — in November.
This is later than Paterson had indicated last week; he had hoped to convene a session in the last week of October or the first week of November. (Elections are Nov. 3). The session is called for Nov. 10, and on Nov. 9 Paterson is asking to address a joint session of the legislature. Paterson will also meet on Oct. 29 in New York City with legislative leaders.
"In this fiscal crisis, we cannot afford to delay action or continue spending at our current rate. The Deficit Reduction Plan, while painful, calls for the necessary sacrifices we need to keep our state afloat," Paterson said in a statement. "My colleagues and I have met to discuss how we can lessen the impact that these reductions will have on all New Yorkers – but the surest way to mitigate the pain is to act now. I look forward to working with my partners in government to reach a consensus approach to closing our current- and out-year shortfalls."
Paterson is asking lawmakers to act on his $3 billion plan to bridge a current-year budget deficit. No word if, as promised, a bill legalizing same-sex marriage is on the agenda; I haven't seen the official proclamation.