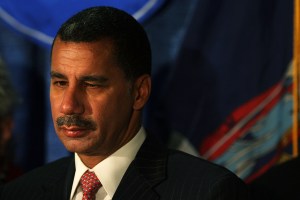 Ever a friend of the White House, Governor David Paterson offered his candid thoughts on the administration's decision to cut the pay of Wall Street executives at bailed-out banks.
"That probably cost New York $1 billion," Paterson said. "And look, I'm not going to defend these people that run these companies. They've frittered away a lot of money in these reckless schemes. But the reality is, in the end, we've lost $1 billion dollars because of that act. And there goes that pipe dream legislators engaged in reacting to my cuts."
Shortly thereafter, the governor's office sent out a more diplomatic press release that said Mr. Paterson shared in the "populist rage" over executive compensation. "They clearly have not earned their paychecks," said the statement, although it reiterated that New York stands to take a tax hit as a result of the decision. (Jimmy Vielkind has the full statement and more details.)
Governor Paterson has insisted the difficult decisions related to closing the budget deficit are to blame for his low poll numbers. Last night, a "Community Conversation with David Paterson" was held in Bed-Stuy, Brooklyn–in which participants talked about the budget–but Governor Paterson was not in attendance.