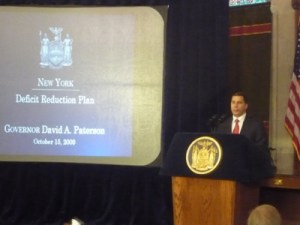 ALBANY—Here's how David Paterson gets to $3 billion in order to balance this year's "recently burgeoning deficit."
— $1.3 billion cutting local assistance "across the board." This includes $480 million in school aid and $287 million in Medicaid cuts.

— $500 million in already-announced state agency cuts

— $250 million from tax amnesty

— $300 million in a sweep from the Battery Park City Authority

— $200 million in a payment from developing the Aqueduct raceway

— $150 million in Medicaid fraud

— $145 million in "additional administrative savings"

— $100 million transferred from the Regional Greenhouse Gas Initiative

— $26 million swept from the Dormitory Authority
"We are place in a position of having our government having to show leadership at this time, and we will," Paterson said just now in a formal Red Room presentation. It also featured Richard Ravitch and Budget Director Bob Megna.
The plan will extend over two years.
"There are no taxes in this plan nor will I tolerate any taxes from any plan," Paterson added. "This is a very painful plan, but we will share the burden."
"All of us are going to have to sacrifice to save our state," he added.
Legislative leaders were not present for the announcement; they have not signed on to Paterson's plan, and it will likely be attacked by special interest groups, particularly for the education and health spending cuts.
"I would expect that I'm going to come under harsh criticism for putting out these proposals. I expect that, and I am sensitive to that," Paterson, who has pegged his political rehabilitation to his fiscal management, said. "But New York has got to stay in our financial position of stability."