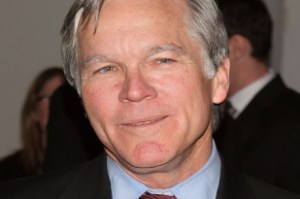 Last Thursday, New York Times executive editor Bill Keller delivered a speech to the paper's digital team at TheTimesCenter on West 41st Street, outlining several tasks and areas of focus for the next couple of months. Since Jon Landman became culture editor, and left behind his position as the liaison between the newsroom and the digital side, Mr. Keller and manging editor Jill Abramson have been getting a "graduate education" on the digital side, sitting down with editors and developers both one-on-one and in teams, listening to suggestions, complaints and issues. He said their major decision is still whether or not the paper will charge online–which is certainly their most pressing one, as well.
But there are also lots of other questions to answer.
"We've begun to home in on a few big questions that seem likely to be our first orders of business," Mr. Keller said, according to a transcription of the internal address, obtained by Harvard's Nieman Journalism Lab. "All of them are important questions whether or not we adopt a pay model, and all of them are aimed at enhancing both the quality of the site and the revenue potential. So I will lay out a few things that, in broad strokes, are the questions that we intend to be most focused on in the next couple of months."
In addition to "plugging" themselves into the process, integrating more social and mobile features, and figuring out whether topics pages work, Mr. Keller said there needs to be a "web first" way of thinking. "One of you described web first to us as our Manhattan Project, and I think that's what it ought to be," he told the crowd. "As long as we're doing journalism on separate publishing systems, we will not be an integrated newsroom. We will not think and plan our journalism with the web in the front of our mind."
But he also said breaking down the walls between digital and print, and spreading "the gospel of integration" will be another task. "The gospel still needs preaching, and I think the next congregation we will focus on is the department heads," he said. "The department heads all, to one degree or another, support the website, but they need to engage it more. They need to be, to quote one of you, 'more than web tourists.' We need to spread the word that the Well blog or The Caucus blog is as important and as integral to our future success as stories on A1 of the printed paper."
So will top-level news editors start having two meetings a day, as they do to decide what goes on the print edition's front page, and discuss blog content instead?
Over "the next couple of months," we'll see.
See the Nieman Journalism Lab's full transcript and video of the speech here.