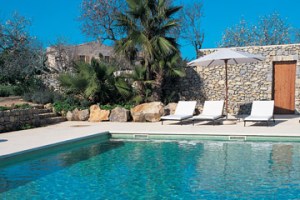 Mallorca has it all which is why it has been a favorite holiday destination for me and my family for some time. While there is so much to see and do in bustling Palma, if you are looking for a way to seriously relax, look no further than some of my favorite rustic hotels off the beaten path…
Finca Son Gener
This converted 18th-century farmhouse in the quiet northeast part of Mallorca is ideal if you've already done the more touristy south and are seeking a subdued escape. With just 10 junior suites, all with terraces, Finca Son Gener is an exclusive little find. Inside, it's clear that someone with an artistic eye did the decorating—none other than the Mallorcan architect who bought the crumbling home and lovingly restored it a few years ago.
Spare but welcoming, it has original stone walls, wooden beamed ceilings and simple furniture draped in white fabrics. In each room you'll find a tasteful selection of art, from antique oil paintings to modern, Noguchi-esqe rock sculptures. Days at the farmhouse are all about relaxation. It has lovely gardens, an indoor and outdoor pool, hot tub, Turkish sauna, gym and a few spa treatment rooms. Only guests and their friends can book a table in the intimate dining room, where they can feast on regional cuisine made with organic vegetables freshly-picked from the garden. The staff includes a nutritionist who will help the chef devise a delicious, healthy meal especially for you. There's no bar, so don't come here expecting fancy cocktails and nightlife. About an hour's drive from Palma Airport. Closed between December 1st and January 15th. Room rates from €270.
www.songener.com | Phone +34 971 183 612
Ctra. Vieja Son Severa – Artà, km 3 | Son Severa, Mallorca, Balearic Islands 07550 Spain
Son Brull
There must have been a lot of monks in Mallorca, as this is another beautifully converted convent. Set at the foot of 'Puig de Maria' it's surrounded by mountains and not too far from the coast. However, it is far from Palma and most anything else. The 23 rooms are all different sizes, airy and breezy with beamed ceilings and high-tech Bang & Olufsen TV, CD and DVD, as well as internet access and Jacuzzis.
The spa treatments have been devised around local products, like olive oil, honey and aloe vera. Or bypass the treatment room and go straight to the swimming pool, in my opinion the focal point of the property with peaceful views onto the surrounding vineyards. The restaurant and bar area serve traditional Mallorcan cuisine with a healthy twist. We sat in the bar next to an old olive press mill and felt in the element with a great glass of Mallorquin wine. There are plenty of available activities to keep you busy: golf, cycling, hiking and tennis as well as cooking classes in the hotel kitchen and wine tasting in the restaurant. Great spot to get away from it all – not to be in the Palma or Portals scene. Room rates from €254.
www.sonbrull.com
Ctra. Palma-Pollença PM 220, km 49.8 | Pollença, Mallorca 07460 Spain
Gran Hotel Son Julia
Llucmajor, Mallorca, Spain
This historical 15th century mansion has a great vantage point over the surrounding countryside. Inside, it's classically chic, with oriental carpets and original works of art decorating the floors and walls. The 25 rooms and suites are decorated in a fresh light palette, offering plasma screen TVs and an impressive marble bathroom. Take your choice of three pools to relax beside—whether it's the outside infinity or the inside heated. Wander through the jasmine filled gardens, and indulge in some age-defying treatments in the spa—you'll leave feeling (and looking) years younger… More active guests will enjoy the tennis courts, gym, or one of the two nearby 18-hole golf courses. With two restaurants and bars on offer, you're bound to find something to suit your tastes. Be warned: If you don't know Mallorca well, this is not the place to stay as the location leaves something to be desired, although it's close to Palma and the sea. 15 minutes away from Palma de Mallorca and 10 minutes from the airport. Room rates from €375.
www.sonjulia.com | Phone:+34 971 66 97 00
Ctra. S'Arenal a Llucmajor, Llucmajor | Mallorca 07620 Spain
Casal Santa Eulàlia
Mallorca, Spain
Located on the quieter northeast coast of Mallorca, the lovely Casal Santa Eulàlia is a remodeled farmhouse full of character, with a history dating back to the 13th century. Its 25 guest rooms and suites have beamed ceilings and wooden floors with furnishings that are classic and comfortable; each has a TV, minibar, and a balcony or terrace, and most bathrooms have a hydro-massage bath.
If you want a bit more space, opt for one of the 12 studio-style houses located a short distance from the main villa. The farmhouse is like a home-away-from-home, albeit one with three pools, a gym, sauna and hot tub, putting green, tennis court, and bicycles to explore nearby trails and beaches. Restaurant Es Casal serves innovative and delicious Mediterranean food in the atmospheric old cellar, and in summer you can enjoy tapas on the stone terrace. A stay at the villa is very relaxing, although the traffic on a nearby road occasionally spoils the ambience. About 45 minutes northeast of Palma Airport. Room rates from €212.
www.casal-santaeulalia.com | Phone: +34 971 85 27 32
Ctra. Santa Margalida, Alcúdia Km 1,8 | Santa Margalida, Mallorca 07450 Spain
Hotel Rural La Reserva Rotana
Manacor, Mallorca, Spain
A traditional Mallorcan country house on top of a small hill and surrounded by a private nine-hole golf course belonging to the property. The 22 rooms are spacious, colored with pastels and mixed with exposed wood and stonework. Concessions to modernity include under floor-heating, air-conditioning and satellite TV. In the restaurant, you'll find good Mallorcan cuisine and service, somewhat old-fashioned, charming! The location is not ideal for those looking to be in various areas on different days—best for those staying put. It's very quiet, so be prepared to kick back and relax on the links, or in the big swimming pool. Their Jazz Barbecues are popular in summer months. Beware, though, this is really a hotel for golf-lovers, although friends and family can amuse themselves with tennis, gym and sauna. Don't come here if you're looking for a beach holiday, but, if you are a keen golfer, this place is ideal—PGA pro David McGuiness offers private lessons to help you perfect your swing. 28 miles from Palma Airport. Room rates from €220.
www.reservarotana.com | Phone:+34 971 845 685
Camí de S'Avall, km 3, Manacor | Mallorca 07500 Spain
Suzanne Aaronson, Co-founder of Suzanne's Files, is our Travel Curator. Stay in-the-know on her latest finds and insider tips by signing up to receive Notes from Suzanne's Files, a free e-newsletter.