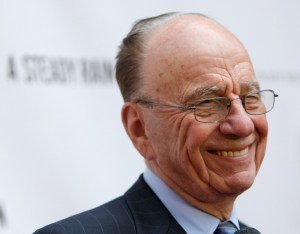 Reuters reported earlier today that Rupert Murdoch may be bidding on NBC Universal, but the general consensus of the blogs is that he is not.
Mediaite rounds up the "eyebrow-raising" rumors of Murdoch's interest (might it include " a terrifying fox/peacock hybrid" logo?) but concludes that such a deal "probably isn't going to happen anytime soon," although it's fun speculation for all involved parties. Gawker agrees, citing Bruce Bueno de Mesquita's pro-Comcast predictions in The Wall Street Journal as well as FCC roadblocks.
Other people who will not be buying NBC Universal include Time Warner. TV Newser reports that at a conference this morning, "Time Warner CEO Jeff Bewkes reiterated that his company has no interest in a NBCU bid."
Good to know.