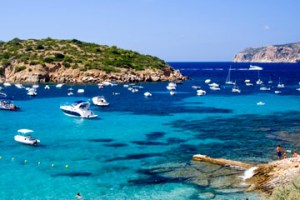 A perennial summer hotspot and the largest of Spain's Balearic Islands, Mallorca has it all, from beautiful beaches with secluded coves to superb restaurants, top notch spas, authentic local shops and a vibrant nightlife scene. My family's summer home is here, so I've come to know the island well. Here's how I would spend a perfect day in Mallorca …
Get active in the morning with a round or two of golf—there are 19 courses on the island, including the wonderful Son Vida Golf Club. Tennis is also easy to find, especially if you're staying in the South West area. I love Sporting Tennis with courts above the sea—serves good lunch too! (+34 971 67 58 87, Carretera de Andraitx, Km 10, Costa Den Blanes). For sailing try the well-established School of Calanova (+34 971 402 512, Palma de Mallorca), or if you fancy something a little more adventurous, Scuba Activa does fun wreck dives and underwater cave trips (+34 971 239 102, San Telmo).
Lunch at Virtual Beach Club; top-marks for comfort, quality of sea and views, food and staff. Call ahead to reserve for lunch and Martin will come meet you on the street to secure a parking spot, which can otherwise be difficult. (+34 971 703 235, Illetas). Flannigan's (+34 971 676 117, Puerto Portals) is another favorite, a reliable and traditional eatery with more than 25 years of great food and atmosphere.
Spend a lazy afternoon wandering through the little winding streets and browsing boutiques and art galleries in the center of Palma, where you can find just about anything—especially beautiful hand-made glass, hand-made textiles, artisanal olive oil, and colorful espadrilles. Need a hostess gift for the friend whose villa you're visiting? You'll definitely find something at Rialto Living, a huge fashion, home decor and gift emporium in a former theater. For contemporary art by Mallorcan and Spanish artisits, check out Galeria Pelaires (+34 971 720 418, 5 Calle Pelaires, Palma) or Galleria Joan Guaita (+34 971 715 989, Calle Can Verí 10, Palma). Also worth a visit is Can Marques, a lovely museum and art gallery in a stately mansion (+34 971 716 247; 2A Calle Zanglada).
My other favorite activity on the island involves very little activity at all—blissing out with a massage or facial at the one of Mallorca's top spas, such as the Thalassotherapy Spa and Chinese Medicine Center at Arabella Spa at the St. Regis Mardavall Resort.
As the sun sets, unwind with cocktail in hand at Puro Beach Club (+34 971 744 744, Palma Bay)—its Moorish atmosphere and great setting, combined with its beautiful navy blue pool and big white comfortable chairs, make it a great place to relax after a long day (although best during the week as weekends can be crowded). Be sure to watch the most amazing sunset at least one evening from the lighthouse at Formenter on the northern tip of the island; you'll thank me!
After dark, it's time to hit one of Mallorca's top restaurants: For a truly romantic setting, you can't beat the candlelit terrace of El Olivo at Deia's La Residencia hotel; seafood connoisseurs must dine at Casa Fernando, a relaxed restaurant in Palma; and don't miss the authentic Mallorcan specialties at La Fonda in Pollença.
After a restorative deep sleep, wake up to yet another sunny, carefree day on the island. Ahhh, Mallorca …
Suzanne Aaronson, Co-founder of Suzanne's Files, is our Travel Curator. Stay in-the-know on her latest finds and insider tips by signing up to receive Notes from Suzanne's Files, a free e-newsletter.