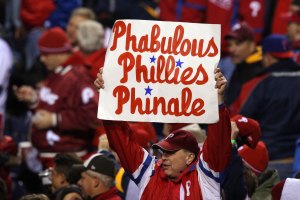 For the last two years, Philadelphia's comptroller has been working on a plan to lure New Yorkers south to the City of Brotherly Love. The 25-page report, released today, is called: "New Yorkers Phinding Philadelphia as Affordable Alternative."
The cost-of-living comparisons are enticing: It's inarguably cheaper to go out in Philly–and it's also cheaper to visit a dentist, the report points out–but is the "f" to "ph" really necessary? You're trying to appeal to educated New Yorkers, after all.
Another question: Is the first Yankees-Phillies World Series since 1950 really the best time to bring this up? Granted, New Yorkers may have Philadelphia on the brain, but right now it's more likely to be in this way, or this way, or the way in this slideshow.