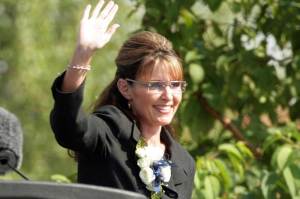 Sarah Palin, should she decide to run for president in 2012, is on course to become the next Pat Buchanan or Jesse Jackson.
That's the takeaway message from a Rasmussen poll this week, which found the former Alaska governor lagging far behind co-G.O.P. front-runners Mitt Romney and Mike Huckabee in head-to-head trial heats.
Against Romney, Palin's deficit was 15 points, 52 to 37 percent. Against Huckabee, the gap swelled to 20, 55 to 35. But when all three were included in the mix, Palin was more competitive, notching 18 percent—still behind Huckabee (29 percent) and Romney (24 percent), but clearly a formidable presence.
The numbers are notable for two reasons.
For one, they represent a pronounced decline for Palin since her bizarre gubernatorial resignation in July. Her wobbly performance as John McCain's running mate last fall soured middle-of-the-road voters on her, but Palin actually emerged from that campaign with deep support among the G.O.P. base; post-election polls consistently showed her running roughly even with Romney and Huckabee.
But the doubts and unease that poisoned Palin with the middle seem to be seeping into the G.O.P. base, courtesy of her resignation spectacle. The Republican base still likes her plenty, no doubt, but—more than before—they seem willing to admit that she's not exactly presidential.
Second, they establish (tentatively, of course, given the early date) a fascinating dynamic for the '12 G.O.P. race—with Palin poised to loom large in the early going of the campaign, while her opponents duke it out with each other to be the last credible non-Palin candidate standing.
As the numbers show, Palin's support stands out when the field is more crowded. If even more candidates were added to the mix—say, Newt Gingrich, Haley Barbour, Bobby Jindal and Tim Pawlenty—Palin might well be back near the top. She has an intense and undying army of supporters, a core group that is unlikely to dissolve between now and '12.
This is what inspires the comparisons to Buchanan and Jackson, both of whom enjoyed similarly large and loyal bases.
Buchanan established his through his 1992 primary challenge to George H. W. Bush. He won no states and few delegates, but inflicted serious damage on the president with a strong (near 40 percent) showing the New Hampshire primary and emerged as the uncontested leader of the G.O.P.'s economic nationalist wing.
At the same tine, Buchanan's vitriolic brand of cultural conservatism and isolationist foreign policy tendencies marked him as a frightening figure to Middle America—and to a large chunk of the Republican Party. He had a big base, yes, but he also scored alarmingly high negative ratings in polls.
The benefits and limits of this profile were evident in his follow-up White House bid in 1996, when—in very crowded fields—Buchanan nearly won the Iowa caucuses with 23 percent (just behind Bob Dole's 26 percent) and did prevail in New Hampshire with 29 percent. Very briefly, Buchanan was regarded as a legitimate threat to wrest the nomination, but then reality took hold: As the field thinned, his numbers refused to budge, while Dole, his surviving opponent, saw his support swell.
Buchanan stalked Dole all the way to the convention in San Diego, but he ceased to be a credible candidate relatively early in the process; Dole routinely bested him by two-to-one (or better) margins when they went head-to-head in primaries. The final delegate count wasn't remotely competitive.
The same thing, roughly, happened with Jackson in 1988. The base he built through his 1984 campaign helped deliver a batch of victories and near-misses on Super Tuesday '88, when Jackson, Michael Dukakis, Al Gore and Dick Gephardt were all serious contenders for the Democratic nod. But when the field was winnowed to just Dukakis and Jackson, the Massachusetts governor began racking up landslide wins.
Rasmussen's numbers suggest Palin is heading in the same direction. When Romney was eliminated, Huckabee picked up the lion's share of his vote, growing his lead over Palin to 20 points. And when Huckabee was eliminated, most of his voters went to Romney. Palin was the odd one out in both scenarios.
Given the trajectory of her overall poll numbers, that trend will probably intensify in the months ahead: More and more Republicans seem to be realizing that nominating Palin would, as John McCain's old campaign manager put it, be "catastrophic" for the G.O.P. This means that, if she does run (and it's certainly possible she won't), she'll be a contender in Iowa and some other early states—and she may even pull off a few wins. But once it's down to her and one other candidate, the party will unite to stop her.