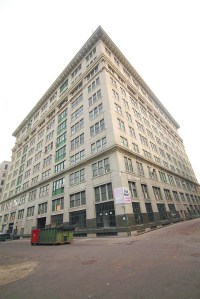 Cave Canem, a poetry center that cultivates the voices of young African-American poets, is expanding to four times its current space in Dumbo. The foundation, which organizes poetry workshops across the country, signed a three-year lease for 1,678 square feet at 20 Jay Street. The space will function as offices as well as public space for workshops, readings and lectures.
Founded in 1996 by poets Toi Derricotte and Cornelius Eady, the organization was originally conceived as a means of countering the underrepresentation of African-American poets in writers' workshops and literary programs. What began as a gathering of 26 poets now maintains a prestigious national fellowship program, a roster of critically acclaimed faculty and an annual writer's retreat.
Cave Canem, Latin for "beware of the dog," is taken from the House of the Tragic Poet in Pompeii, one of the few structures spared in the eruption of Vesuvius in 79 A.D. Mr. Eady came across the inscription and thought it a fitting name for a poet's safe haven.
E. L. Martin Partners represented Cave Canem in the transaction. Natalie Ungari of Two Trees Management repped the landlord.
egeminder@observer.com