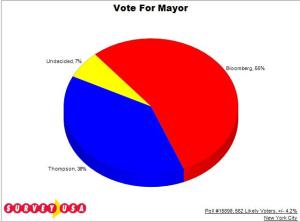 A new poll by SurveyUSA has Michael Bloomberg widening his lead over Bill Thompson 55 to 38, a different result than the 8-point-spread in their previous poll.
In this poll, Bloomberg leads Thompson among Democrats, 53 to 42, and has a significant support among African-Americans, which is considered Thompson's base. Bloomberg has 35 percent, Thompson has 56.
Bloomberg is at or above 50 percent in each borough and across most major demographic categories.
UPDATE: Maybe this is why.